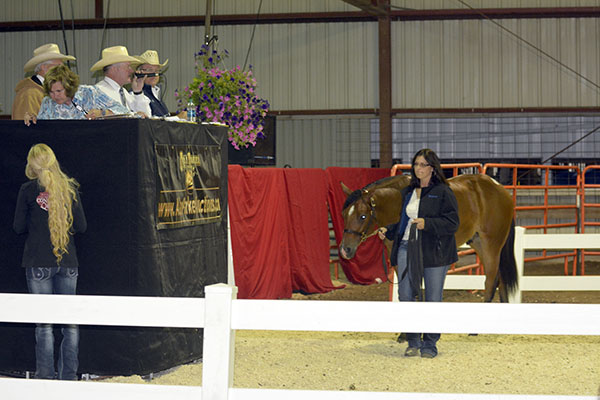 A total of 47 yearlings have been consigned to the 2017 Tom Powers Stakes Sale, scheduled for July 1 in Berrien Springs, Michigan.
Starting with Lot #1, an unnamed sorrel filly, sired by Congress Champion Batt Man and out of Fanciest Hour Yet, by The Radical Hour and ending up with Lot #47, Cant Stop Lopin, a sorrel filly by Lopin My Best and out of Make Mine An Odyssey, the sale features youngsters representing some of the best bloodlines in the industry.
Held during the Tom Powers Futurity, the sale is scheduled just after the conclusion of the show's featured event, the Sale Stakes 2-Year-Old Open Western Pleasure Class.
Last year's sale grossed $904,240 and the average price was $10,632.12. The high-priced yearling brought $72,000.
Yearlings that go through the sale are micro-chipped and will be eligible to return for the 2018 Sale Stakes Class. This year's Sale Stakes Class has a total purse of $65,000 and both an open and limited division will be offered. In addition, Harris Leather will give out the "Harris Challenge" award again this year: $3,000 to the Open winner if riding a Harris saddle and $1,000 to the Limited division rider if riding in a Harris saddle.
New classes this year include a $5,000 added 3-Year-Old Open Western Pleasure Stakes and $3,000 added 3-Year-Old Non-Pro Western Pleasure Stakes for horses that went through the 2015 Yearling Stakes Sale at his Michigan futurity but did not show last year in the 2-Year-Old Stakes Class.
Alan Parker Auctions will present the 2017 sale.
To view a catalog click here: