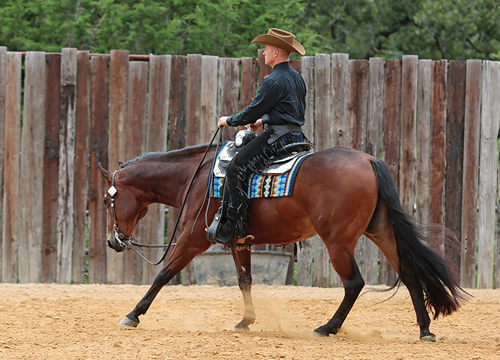 At all times Reid Thomas has lists. A daily list. A weekly list. A monthly list. A yearly list.
And the Texas trainer makes no apologies.
There's full disclosure.
"If you are not a tad OCD – and list oriented – I always warn that you won't enjoy working for me or with me."
Meghan Moriarty has worked as an assistant for Thomas for three years and says it has been a huge opportunity to step up into the Quarter Horse industry and learn how to run a successful business.
"Reid has been a great mentor for me to learn from," she said.
Although his strict attention to detail may not be right for everyone, it works for Thomas. He is a multiple World and Reserve World and Congress Champion and has trained, exhibited and promoted such decorated horses as Zips Dandy Sensation, Huntin By Moonlite, Smokin Charlie Too, Huntin The Dream, Too Hot To Frisk, Doodle Jump, KM BosHotInvestment, Zippo Gold N Sonnet, Dontskipmygoodimage, Getting Hot, Dont Skip My Charms, Chippin N Style, Chips Private Stars, Huntin My Zipper and Only By Moonlight.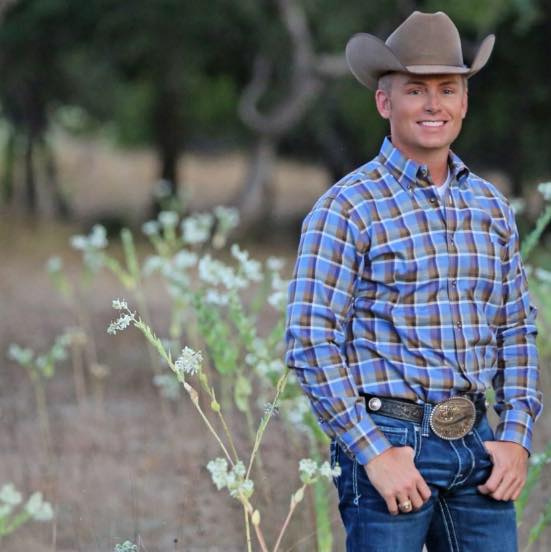 Reid Thomas Performance Horses specializes in the training, preparation and coaching of American Quarter Horse Association all-around horses and clients. His mission for his business is to try his hardest to provide a five-star organizational process, from each small detail to the largest details of the business.
"As a kid, I really took note of what I liked as a client and what I hated as a client," he said.
Born in Corpus Christi, Texas, Thomas' parents gave him his first horse at the age of 7. He started giving lessons while attending high school and volunteered to assist in a hippo therapy program at a local barn.
"My mom, brother, and I would spend many afternoons helping with the kids and using our horses," he said.
During his youth career Thomas trained with Randy Schurig and later on with Ricky and Charlotte Spinks in Tomball, Texas.
After graduation he attended Texas A&M in College Station, but always kept about eight horses in training and tried to arrange his classes so that he could attend shows on the weekends.
He graduated with a degree in Business Administration and a minor in International Law in 2002.
"After college, I wasn't sure if I could make a living being a horse trainer, so I applied and got into law school," Thomas said. "Still trying to make myself realize I wanted to train horses, I purchased restaurant franchises, got my real estate license, and started fixing up homes and renting them and flipping them. I learned a ton about 1031 exchanges over the next 10 years."
After many years operating his business from his mother Charlene's therapeutic riding facility in Corpus Christi, Texas, Thomas relocated in 2012 due to several factors.
"I lost my dad in 2012 during the Congress; my mom's therapeutic program had grown so large, it was hard for us to both work out of the same facility, and I was ready to start a new chapter in my personal life," he said. These days Thomas lives with his partner, Eric Mendrysa in Boerne, Texas, His facility is nestled in the scenic foothills of the Texas Hill Country and includes 32 stalls all under one roof, with three apartments, a client show tack room, work tack room, a/c dog stall, dwarf pony, goat, zebra stall, barn bath and office.
"Our workspace makes us very efficient in our daily work routine," he said.
Although Thomas always operated his own program he got assistance from Steve and Andrea Archer, Charlie Cole, Tim Kimura, Michael Colvin and Beckey Schooler.
"So many others have given me great help and advice along the way," he said. "One of the most enjoyable parts of the business is working and learning with and from others."
Thomas is still involved with his mom's program as well.
"We have many retired show horses that are in her therapeutic riding program," he explained. " I love helping her with her kids at the National Snaffle Bit Association's World Show. She has over 150 riders each week – it's unbelievable work with riders and horses."
In his own program Thomas believes his strength is his ability to read riders' strengths and weakness and find a good match in the horse they show and promote.
"I'm a firm believer that on my weakest day, a horse saved my life, became my most valuable therapist and I think that's why I dedicate my life to their wellbeing and care," he said.
You can call Thomas at (361) 739-1951 or you can visit him on the web at www.reidbthomas.com or on Facebook.