Source: Text by Corrine S. Borton • Photos by Jeff Kirkbride, Larry Williams & Shane Rux
She's only been training professionally for two years but it seems like a lifetime when you are the daughter of professional trainers and it's what you imagined you would always be doing.
"My parents are horse trainers so I grew up around them," she said. "I first started competing around the age of 6 and I caught the bug and have not stopped since!"
In fact, Carli, 21, began training professionally in January of her final year in American Quarter Horse Association and National Snaffle Bit Association youth competition so she never even competed as an amateur.
Carli has had the opportunity to train or show such decorated horses as NSBA World Champion, AQHA Reserve World Champion and Quarter Horse Congress Champion Hot Lady Born Lopin; Congress Champion and AQHA High Point Western Pleasure Champion YouNeverLookedSoGood; Quarter Horse Congress Western Riding Champion and NSBA World Champion A Good Cookie; and Congress Champion Cool Conclusions, just to name a few.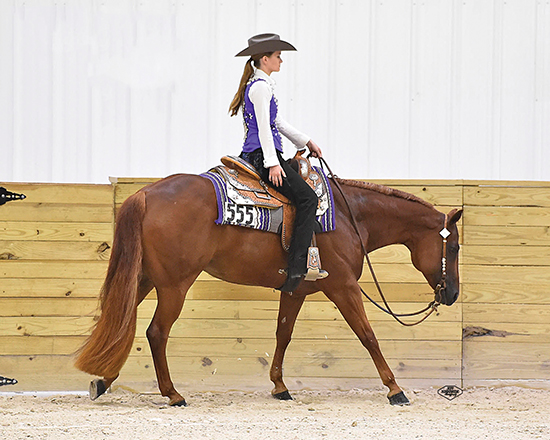 She said her greatest achievement to date is winning both the AQHA Youth High Point titles in Western Pleasure with YouNeverLookedSoGood and Ranch Riding with Im Effin Sure in 2013.
"Both those two horses went everywhere with me that year and they were extremely different, but I loved having to change everything between the two classes," she said.
But she's also, like everyone, had her share of embarrassing moments.
"Once I was showing in Performance Halter and I knew my horse was a nice horse but also knew she wasn't the winner," Carli recalled. "I was way in the back of the line waiting for the placings, just standing there petting my horse. I turned around wondering what was taking so long, and realized everyone in the class had left. The judges were just staring at me wondering what I was doing! The next class was ready to come in, but they are waiting for me to focus and leave the arena. I had to laugh about it."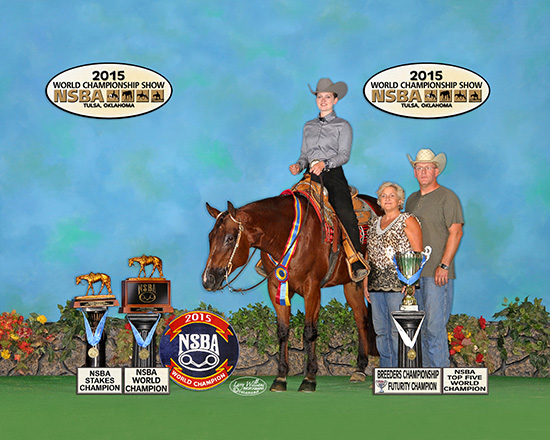 Carli joined her parents, Brad and Vicki Pitts, at their P5 Equestrian Center operation in Newburgh, Indiana. The facility includes a 16-stall, fully heated barn, four turnout pastures, a 60-by-120-foot heated indoor arena as well as a 120-by-200-foot outdoor arena and a 60-foot outdoor round pen.
There she helps train and coach youth and amateur competitors for events like Western Pleasure, Western Riding, Trail, Hunter Under Saddle, Performance Halter, Showmanship, Equitation and Horsemanship.
"I love showing all day," she said.
Carli said for now she enjoys working for her parents.
"Through them I have gotten so many opportunities to show extremely talented horses, work with great customers and learn from the best," she said.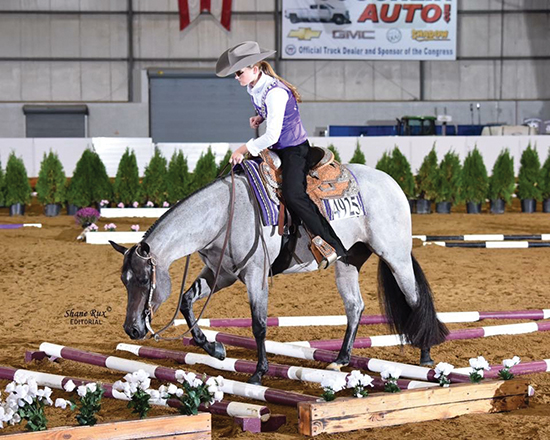 Some of them include: Katie Bussing and A Good Cookie, 2016 Congress and World Champions; Marcy Lang and Krymsun Bonanza Babe, 2016 Central Novice Championships winner and Congress Top 5; and Alyssa Freeman and Tether My Leather, Top 10 Amateur Hunter Under Saddle at the AQHA World Show.
"My favorite part of this job is watching the progress," Carli said. "A lot of the time, it is the little victories that mean the most. If I got a green Trail horse through a class without splitting a pole, that might be my favorite part of the horse show."
She also loves watching clients get better and achieve something new at every show.
"Perfection is unattainable, but I want to continue trying with each improvement," she explained.
When it comes to training horses, Carli said she believes a horse can only learn as fast as it can and that pushing it too fast can cause damage in the long run.
"It sounds cheesy, but I want to listen to the horse and let them tell me when they are ready to step up," she explained.
Carli spends most of her time riding and learning all she can. But she is taking time to also further her education. Two to three days each week she travels to Evansville, Indiana, where she is a student at the University of Southern Indiana, working toward a Bachelor of Science degree in Business Administration.
For additional information on the P5 Equestrian Center you can call (812) 618-7913 or you can visit the P5 Facebook page.