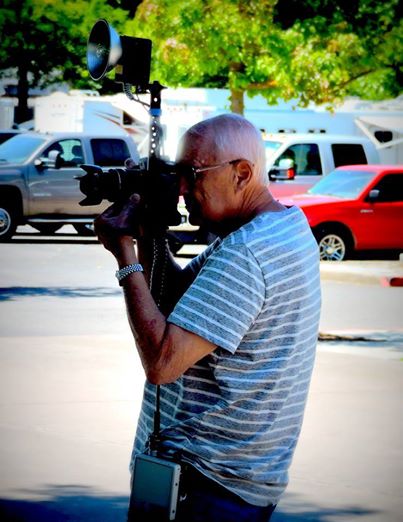 Words of encouragement and fond memories from friends and customers have been pouring in from all over the globe for Texas equine photographer Don Trout who passed away today following a battle with cancer.
Don was transported the hospital on July 23, and scans then showed rapid tumor growth and spread, said his wife and business partner, Debbie.  "He passed away this afternoon very peacefully. He is now pain free."
A GoFundMe account has been established to help with medical bills and living expenses. Over $15,000 of the $25,000 goal has already been raised. You too can contribute by visiting: https://www.gofundme.com/don-debbie-trout-support.
A professional equine photographer for over 40 years, Don has served as official show photographer at events in nearly every breed association and built a reputation by creating magic from behind his lens at ranch calls across the United States. He had recently been receiving radiation and chemotherapy treatment for cancer, which spread to his spinal column and legs.
Thousands of people who met Don and Debbie at a show have already expressed their gratitude in Facebook messages as they post their favorite Don Trout picture to honor him.
Beth Vallen, of Pilot Point, Texas, summed it up when she wrote:
"Yes, of course Don and Debbie take good pictures– but it doesn't end there. They have been friends to so many of us, for years – decades, wishing us well and capturing our proud moments, being good friends and a special part of the horse shows."
Here are just a few of the heartfelt messages posted to Don and Debbie's Facebook page (https://www.facebook.com/dondebbie.trout) over the last few days:
Janet Valdes, of California
In support of Don Trout and all the photo memories he has given us, I encourage everyone to light up Facebook with your favorite Don Trout photo – Michael & Oscar Del Mar CA
Mindy Erskine, Arizona
In support of Don Debbie Trout, I would love to encourage everyone to change their profile to one of your FAVORITE memories he captured… let's light Facebook up with our smiles and support of this amazing man! We are praying for you Don!
Kelly Boles Chapman, Michigan
Don and Debbie — you are in our thoughts and prayers. ❤️ you guys and our "fish" pictures… you've captured so many great memories over the years!
Jeanne McNerney, California
Some of my favorite photos have been taken by Don Trout. No matter how awkward I felt in front of the camera, Don always had a way of making me feel comfortable with his sense of humor! This one in particular brings me back to some fond memories of my youth career. Thank you Don. Sending prayers to you Don Debbie Trout.
Judy Canfield Power, Illinois
You will always be an important part of my horse show memories. Of course you took the best photos, but more than that, you always made time for all of us. You loved my Mom like she was yours and you always indulged my Dad. What a thrill it was to reconnect with you last year in East Lansing after more than thirty years! My thoughts and prayers are with you and your family. Love you Don.
Tonna Brooks, Oregon
A small sampling of my horses Don Debbie Trout has photographed over the years.
While the pictures serve as happy memories with my horses, they also mark moments where Don made an impact on my life. Never was a picture taken without a word of wisdom provided with it! Much love and respect, Don.
Leslie Vagneur Lange, Colorado
Some of my favorite Don Debbie Trout photos!!! Thinking of you and your family.
Donald Peterson, California
Prayers with Don Trout as he's the only man I'd trust to make me a cover model. Almost 17 years ago now in a secret spot guarded by attack geese. Don always knows the spot to get the goods. Fight strong Don.
Becky Moore, Arizona
Don captured so many great moments in my show career. Hats off to you Mr Trout!
Alyson Freeman
I don't use photos of myself on Fb but this is one exception I will make. #PrayForTrouts Thank you for all of the memories and photos that captured them!
*This was probably taken in '96/'97
PicturePerfectImage
Ernie Dowell, Irvington, Kentucky
I see lots of folks posting their favorite Picture that Don took over the years. This is mine.
Tommy Manion was in front me with the Grand Champion mare, she sorta went ballistic and basically destroyed the photo booth. Took about 45 minutes to get their picture. I walked up stopped, Don took one picture, said Thanks!
The lady that owned this horse was a little upset, because he didn't take more time!
Praying for "Fish" and the whole family!
Cathy Martin, Washington
Thank you Don for capturing some of my most precious memories. I remember sharing jokes whenever we were at the shows. I would save them just for you and the raunchier the better. It was always good to see you. I send you lots of love and prayers.
Taylor Fabus, Michigan
If you're lucky enough to have a photo with a fish on it, you're also lucky enough to have had some great memories. Thank you, Don (and Debbie) for helping us remember those great days and great horses!
Jamie Voskamp, Texas
Pokey has never been a fan of camera flashes after we had a bad experience with electricity, and this is the only photo I have by Don Debbie Trout, but it sure is a good one! One shot and done!
At this show, I remember wildly shaking my head at Don not to shoot us during the pleasure. After the class, we laughed about it. He said he thought I was going to shake my hat clean off. And he was really nice to not shoot the other horses in the pen either so that Pokey and I could get around with a nice ride.
Keeping the Trout family in my thoughts during this difficult time. Lots of love.
Stephanie Lynn Lassalle, Califronia
So its been a while since I have shown horses, and even longer since I showed them well enough to have the talented Don Debbie Trout take my photos.
Don and my step dad David always seemed to get in a little trouble when they were together. Last year this is what they came up with!
I'll have my mom dig up some old win photos – but for now hoping this one puts a smile on everyone's faces!
Lori Murphy, Michigan
In support of Don Debbie Trout here is my favorite 'Fish' picture… my dad in
My driveway doing what he loved ❤️ Thank you Don and Debbie 😘 ((hugs))
Tami Read-Schween, California
This will always be my favorite…seldom do we ever get to see Don Debbie Trout in the photo!! You are both in our thoughts at this difficult time…
Rebecca Tiller Bunting, Kansas
As I am seeing the entire horse showing community rally around Don and Debbie Trout with photos on their FB pages, I'm thinking how many lives Don & Debbie have touched, influenced and just made brighter because of the people they are. WOW is all I can say. What a legacy
Catherine Jennings, Virginia
One of my most cherished possessions. The original is hanging in my living room. Thank you Don Debbie Trout for capturing this moment of my "Captive boys" #DonTroutPhotos