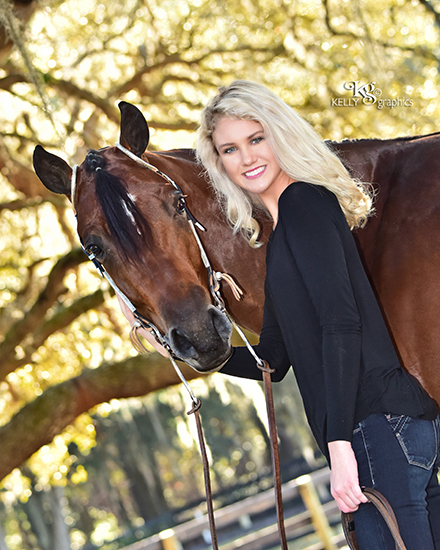 It takes a very special team to make the transition from competition in American Paint Horse Association classes to showing at American Quarter Horse events. Nineteen-year-old Kimmy Shidler, of Crystal River, Florida and her 2008 gelding BMQ The Jig Is Up not only managed it but they did it with ease.
BMQ The Jig Is Up was no stranger to winning at the highest level. As a 2-year-old he won the Quarter Horse Congress Masters Hunter Under Saddle with Dawn Baker in the irons. But when Kimmy won her first Congress bronze in 2014 it was the first time she had ever set foot not only in the Celeste arena, but any AQHA arena.
"He was the greatest Hunter Under Saddle horse ever," Kimmy said of her partner that day. "We won the 2014 Congress in Novice Youth Hunter Under Saddle and it was my very first Quarter Horse show ever. We also won the Novice Youth Hunter Under Saddle and the 14-18 Hunter Under Saddle at the APHA World Show that same year."
Later that year BMQ The Jig Is Up was sold, but Kimmy couldn't squash the showing bug. She enlisted the help of Dunnellon, Florida trainers Elizabeth and Cole Baker to help her navigate the world of AQHA.             Under their guidance, Kimmy switched from Hunter Under Saddle competition to Western Pleasure with the purchase of Sweet Movin Hotrod. The 2006 gelding, by Hotroddin Zippo and out of Miss Winnies Asset, had a long list of credentials even before Kimmy purchased him, and she has only enhanced his record.
Together they won multiple circuit championships throughout 2016 and placed 14th at the Quarter Horse Congress in 15-18 Youth Western Pleasure. This year Kimmy's mother, Christine, took the reins and is showing Sweet Movin Hotrod in Novice Amateur Western Pleasure.
"I fell love with Western Pleasure because it's so detailed," Kimmy said. "So many things all have to go right all at the same time for it to look great, it's really a very challenging event."
After searching for a new show partner for Kimmy the Bakers finally found the perfect one in Kiss This Moonlight, a 2014 bay mare by Only In The Moonlite out of As Shes Walking Away. The team clicked quickly and Kimmy will show her in 3-Year-Old Non-Pro and Youth Western Pleasure events this year while Cole will show her in 3-Year-Old Open Western Pleasure.
"She's spoiled rotten. Everyone in the barn calls her princess," Kimmy laughed. "She's a definite girl… moody. Some days she's totally fine and other days she doesn't want to be bothered."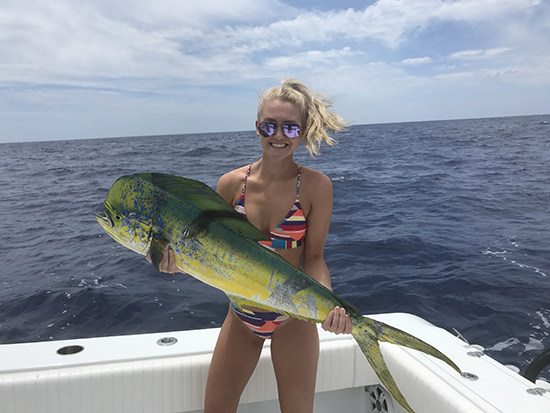 In addition to her love for horses, Kimmy is also an avid fisherman. As the only daughter of Rod and Christine Shidler, Kimmy and her two brothers, Blake and Clay, grew up on the water in Florida. Both of her brothers are fishing charter captains and they own a fishing lure company called Unfair Lures so fishing is a big part of her life.
"It seems like we are always fishing. We go down to the keys and out into deep water a lot," Kimmy said. "I am the only one who rides and I am the only girl, but I grew up on the water so that has always been a huge part of my life."
Even though she graduated from
Crystal River High School a semester early, Kimmy has already begun classes at Santa Fe College in Gainesville where she is majoring in Business Management. She hopes to become a real estate agent one day.
When she's not at a horse show or out on the water Kimmy loves to travel with her family. They spend most of their winters in Utah and summers in the Florida Keys, but Kimmy really wants to be able to visit the Bahamas and see the crystal blue waters.
Kimmy says her father is her hero because he is the hardest-working man she has ever met and she works very hard at her show career to make the people around her proud, especially her family.