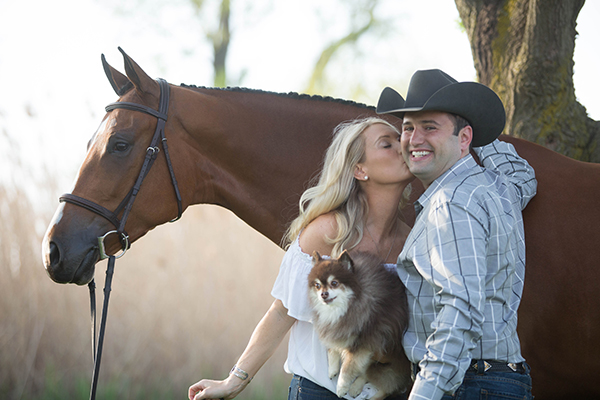 Sarah Rosciti, of North Scituate, Rhode Island, wants to win that big prize as much as the next guy. But the Maine native says she gets just as much satisfaction when a foal she and her family bred and raised is successful for their new owners.
Sarah is married to Henry Rosciti. He, Sarah and his family (including parents, Hank and Donna Rosciti and sister, Jennifer Pasquazzi have owned and raised some of the most noted horses in the industry, like Gypsy's Little Image, Scotches Old Gold, Hey Blue Eyes and Machine Made.
Sarah grew up around horses and said she has always been drawn to them. She got her start in the show ring aboard her father's Appaloosa, "Mr Bojangles."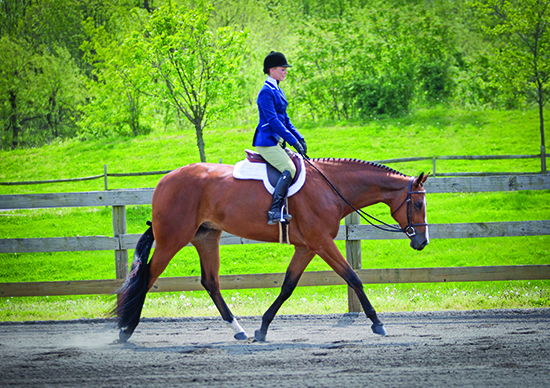 "Then when I was 10, my non-horse mother bought me a weanling I desperately wanted, very much against my dad's wishes," she recalled. "His Name was Pacific, a breeding stock paint."
She spent her teen years showing locally and it was at a horse show that she first met Henry.
"We had to be 13 or 14 and we were at a show in Deerfield, New Hampshire," she recalled. "He fell off his bike (he claims to get my attention). We kept in contact off and on through the years. One night, many years later, when I was living in Florida, I had a dream we were at a horse show together so I gave him a call the next day. A week later he flew down to visit me and I moved to Rhode Island the following spring. By 2007 we were engaged and married in 2008 in Newport Rhode Island."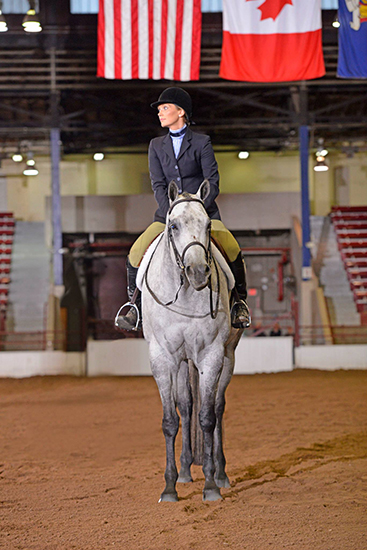 Over the next decade, Sarah has had many successful show partners, including Just Say The Word, a 2001 sorrel gelding by Say Dora (TB) and out of Impressive Alliance. Together they placed third in the Open division of the 2008 Quarter Horse Congress Non-Pro Hunter Under Saddle Maturity behind Good I Will Be. But her favorite is This Is Why Im Hot, a 2007 gray mare by Hot N Blazing out of Hey Blue Eyes.
"My sister in law, Jen, and I foaled her out and after I sold Just Say The Word Jen let me have her to show," Sarah said. "She got hurt during her 3-year-old year so we didn't get to show much and made her a broodmare. She has produced Congress, NSBA and Tom Powers Futurity champions for us and a few years ago I took her back out and put a bunch more points on her."
This year Sarah is showing All About That Blaze, a 2012 bay gelding by Hot N Blazing out of All About It (by Allocate Your Assets).
"I bought him as a yearling from breeder Amy Brosch," Sarah explained. "He was big and mostly awkward at that point. I broke him out myself and had big plans to show him as a 2-year-old."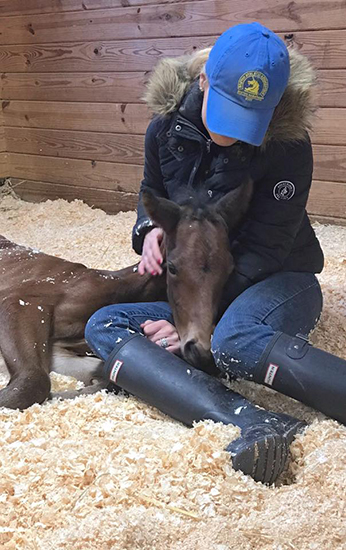 But the youngster developed plural pneumonia while at a show in North Carolina where Sarah had taken him to just ride around and get accustomed to the show atmosphere.
"He spent about10 days at NC State, and they wouldn't let him travel far so I had to find a place that could care for him," Sarah explained. "I called Amy Smith and Melanie Thurston of Capall Creek and asked her if she would be willing to take on Blazes' care, they didn't hesitate. He stayed with them for probably almost three months until he could travel home. We are forever grateful to them."
All About That Blaze is back riding now and the team is nearly qualified for the AQHA World Show already and will make their futurity debut at the Tom Powers in Michigan.
Sarah does all the riding on most of our horses, but the family usually has one in training with Brian and Dawn Baker.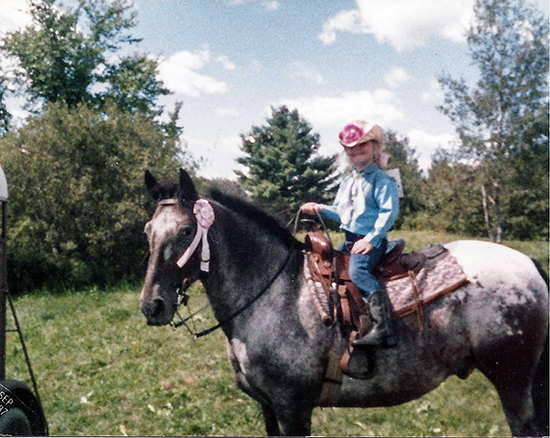 "I certainly seek help from people I respect that are willing to share their time, like Nancy Sue Ryan, Garry and Tami McAllister, Pierre Briere and Kim Reynolds," Sarah said. "I also have constant help from my husband, family and our great group of friends that will video me or watch a video for me, like Jim Lamoreau, Christie Pope, and Janae Walker."
When she is not at a show Sarah spends a lot of time working with the foals raised in the Rosciti program and in the fields photographing and doing videos of babies.
She is also the owner and operator of SR Images, an equine photography and advertising design firm. For more information, you can reach her on Facebook.