Source: Text by Courtney Borton Ament • Photos by Hample Designs and Avid Photography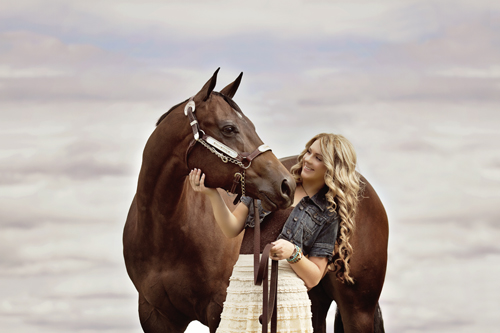 She's only 18 years old but American Quarter Horse Association youth competitor Cassidy Jensen is wise beyond her years.
The past few years have been a bit of a struggle for the Saginaw, Michigan native as she battled a diagnosis of dyslexia, changing high schools three times before finding a program best suited to her learning style.
"I had to overcome a lot of obstacles in school, but it has taught me to adapt and find different ways to approach difficulties when I encountered them," Jensen said. "Learning to adapt has made me stronger mentally. These challenges have also given me a strong awareness of those around me who might also share some kind of difficulty. No one wishes to have obstacles or challenges thrown in their path, but sometimes they make us better, stronger people and in retrospect they often appear as blessings in disguise."
Cassidy graduated from Lakes Cyber Academy and plans on attending the Academy of Art University where she hopes to combine her two biggest passions, horses and graphic design. After graduation, she would like to become a graphic designer and photographer specializing in the equine industry.
"I love being a part of this great industry and photography and graphic design have always been something I have had an interest in doing," she said. "It just seems natural to incorporate those interests with my love of horses."
Cassidy says horses have consumed all her time since she was a child, knee deep in dirt and carefree. She had the privilege of being "raised in a barn" where her parents, Steven and Kelli Jensen, owned and operated a breeding business. At first Cassidy was content watching her older sisters, Alexis and Madison, show while she played beneath the bleachers. As she got older, she started to pay more attention and became more and more interested in competing herself.
Cassidy's first trip around a show pen happened when she was just 11 at a show in Michigan aboard a big, pretty mare named TF Steppin Up aka. Malibu.
"After getting used to each other and getting some one on one with her under the calming guidance of Jimmy Roth, I was able to go out and get her shown," Jensen recalled. "I remember being absolutely terrified, but also absolutely determined. It was a proud moment when I walked out with that ribbon."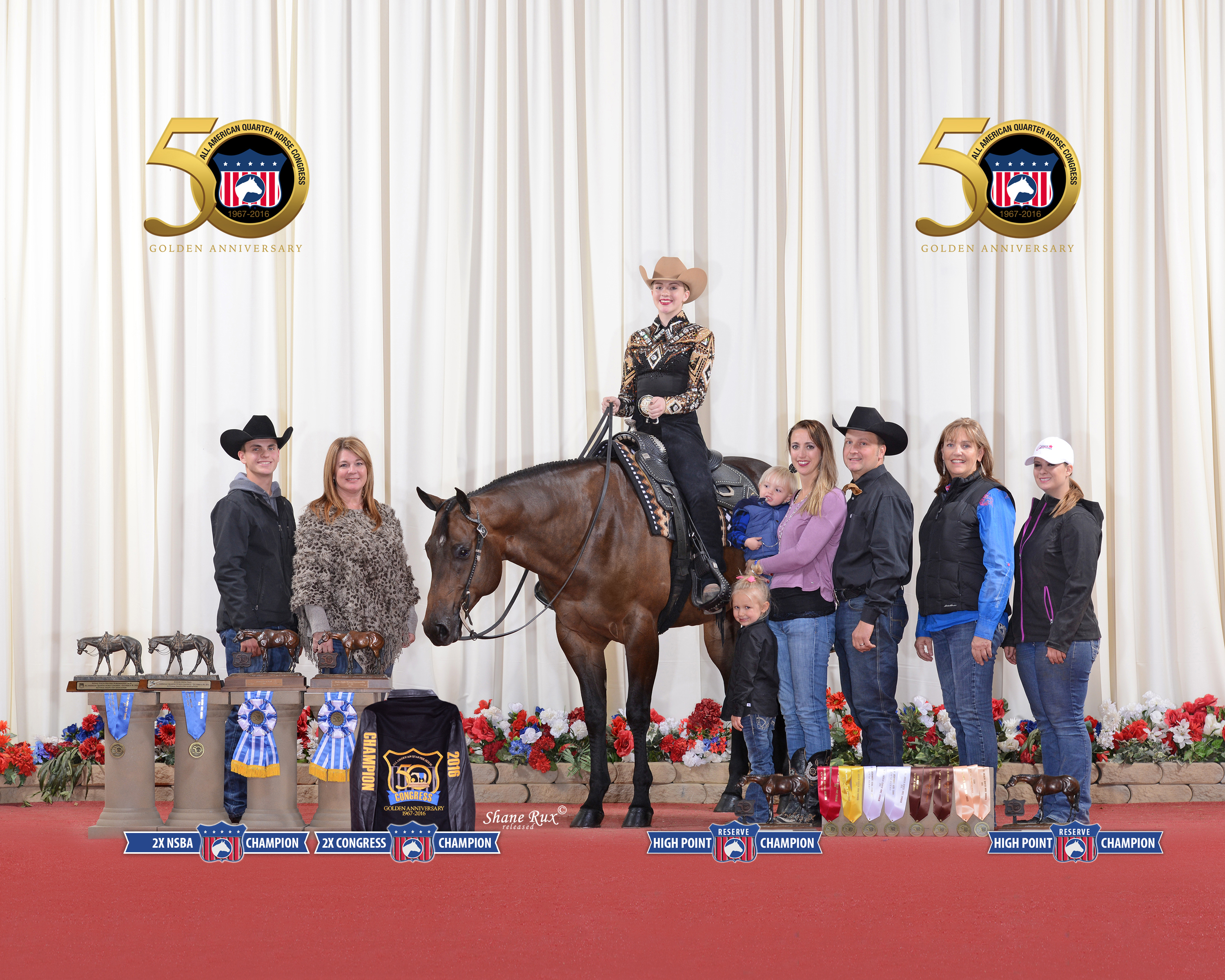 This year Cassidy is showing Chocolatey Special K, a 2011 brown mare by One Hot Krymsum out of Zips Chocolate Swirl in Performance Halter, Trail, Western Horsemanship, Showmanship and Equitation under the guidance of Jason Gilliam. She is also dabbling in the Hunter Under Saddle arena aboard Blazin With Rhythmn, a 2014 grey gelding by Hot N Blazing and out of Full Of RhythmnBlues, under the guidance of Mark and Judy Zeitler. Last month they won the Youth Hunter Under Saddle at the Tom Powers Futurity. They show in Youth Hunter Under Saddle at the AQHYA World Show, NSBA World Show and Congress later this year.
Over the years, Cassidy has also had the opportunity to show some pretty impressive Halter horses and this year is no exception. Her lineup includes:
BPF Cheek to Cheek, a 2014 sorrel mare by The Top Secret out of OBB Cool to Touch; 2016 Congress and AQHYA World Champion in 2-Year-Old Mares.
TF Headliner, a 2015 sorrel gelding by Kid Coolsified out of Life in the Fab Lane. They will be showing at the AQHYA Youth World and the Congress.
Attitudz Everything, a 2015 sorrel mare by Kid Coolsified out of Cool Skipin Attitude; 2016 AQHYA Year End High Point Halter Yearling.
TF Starlight Waltz, a 2016 sorrel mare by Ecredible out of The Last Waltz. TF Starlight Waltz (also knows as Baby Girl) has quite the following on Facebook. The Jensens started documenting her adventures as a baby. When they had to start hand feeding her, she became very friendly and she would follow everyone around the barn. The family started posting the funny things she did on Facebook. Baby Girl will be going on a "big adventure" this year to the AQHYA World Show this August, The Congress and The Breeder's Halter Futurity.
Heza Top Gun 2016 Chestnut Gelding by TheAmazingGunslinger out of Bobbie Que. Gunner's debut will be at the AQHYA World Show then on to The Breeder's Halter Futurity.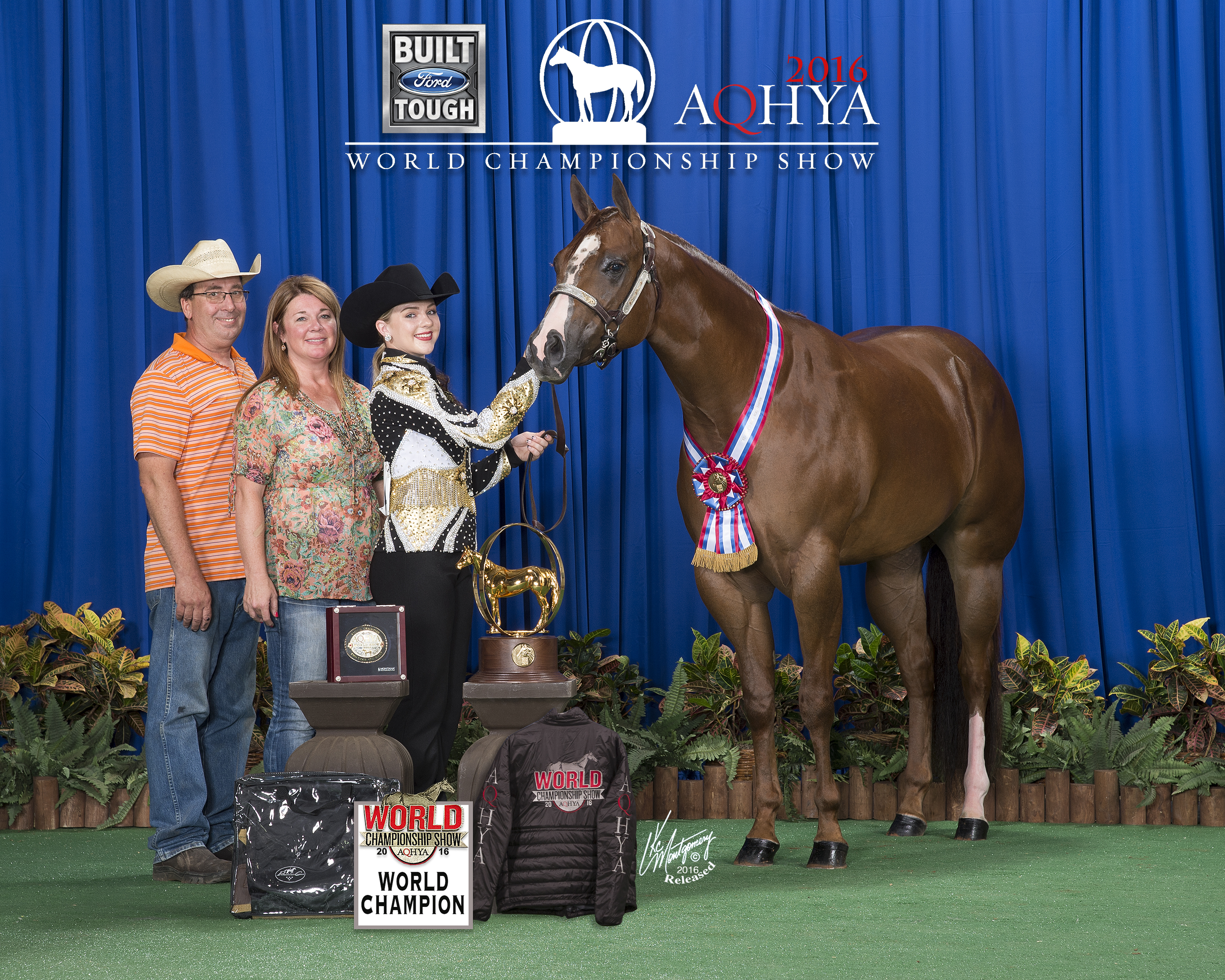 Cassidy says it's the challenge of showing horses that draws her to competition and it's the special connection between horse and rider that motivates her to work hard.
"This sport takes so much time, practice, and dedication. Not only that, you have to form a connection with your horse to compete at the top level," Jensen revealed.
When she's not busy with all of her show horses you can usually find Cassidy fishing out on the bridge that spans the pond on her family's farm. As a child, she would often wake up early and head out in her Disney pajamas with her fishing pole, bait and a pair of pliers to get the hook out so she could throw her catch back.
"Most recently, I have started fishing again and I don't know why I ever stopped. I started back up because my amazing trainer and fisherman, Jason Gilliam, inspired me," Jensen said. "My biggest fish to date is a 12 pound and 27-inch catfish. I am working to break this personal record!"