Source: Text and Photos by Whitney Wilson
Things are heating up here in Tulsa, Oklahoma, as the National Snaffle Bit Association (NSBA) prepares to host its 12th Annual World Championship Show.
Judging started today and will continue tomorrow in Show Your Colors AQHA/NSBA Dual Approved classes. World Show classes start on Monday and continue over seven days. More than $500,000 in cash and prizes will be awarded and, in addition to the World Show classes, which are qualifying events, the NSBA Breeders Championship Futurity and Stakes classes will also be featured throughout the week.
Trainers, spectators, and horse enthusiasts from all over the globe have come to Oklahoma to take part in the fun and competition.
Kari Craft of Greensboro, Georgia is excited to be returning to the World Show for the first time in nine years. Craft will be showing in the Non-Pro Maturity events with James Deen Daydream and in the 3-Year-Old futurity classes with her new stallion, Gone Viral.
"It's one of my favorite shows," Craft said. "It's very laid back and fun to watch everybody preparing."
Craft described the atmosphere in Tulsa as one of a kind, unlike that of the Congress or the AQHA World Show.
Dr. Brad Cumber, DVM, of Game Time Sports Medicine based out of Saginaw, Michigan said the biggest challenge that a large show presents is the last-minute lameness of horses.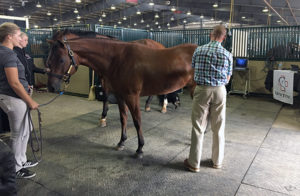 "Trainers especially have spent all year preparing a horse, and it turns up sore right before you need to go in," Dr. Cumber said.
He added that his favorite thing about the World Show is the level of competition with a more laid-back vibe.
"When you get to the Congress or even some of the bigger futurities, it seems like the level of anxiety amongst the competitors is higher," he said.
Trainer Keith Miller, of Reidsville, North Carolina, traveled directly from the AQHA Youth World Show in Oklahoma City. With seven horses, Miller said he tries his best to stay organized when juggling each client and their horses.
"It's really important to have enough help," Miller said. "We have somebody who cleans stalls and gets horses ready and we also have two people riding."
Miller will kick off the World Show Monday morning with the BCF 4-6-Year-Old Open Hunter Under Saddle.
Lima, Ohio native Randy Hanes, who co-owns and stands the well-known AQHA stallion Batt Man, said he and his wife, Kim, have enjoyed coming to Tulsa for seven consecutive years of showing at the NSBA World Show.
"Tulsa offers a great facility and a great horse show," he said. "It's very well organized and a joy to be a part of."
Under the guidance of Clint Collinsworth, Randy will show in the Non-Pro Longe Line and the 2 and 3-Year-Old Non-Pro Western Pleasure classes.
Courtney Archer of Pilot Point, Texas said she always enjoys the NSBA World Show.
"Everyone is welcome, and we all get to show together," she said.
Archer said the level of competition is undoubtedly the best of the best. She will be competing with her gelding, Aint Gota Lot, in the Maturity Non-Pro Hunter Under Saddle, Amateur Hunter Under Saddle and Novice Amateur Equitation. She will also be seen showing A Good N Hot Machine in the Maturity Non-Pro Western Pleasure and the Amateur Western Pleasure.
A trade show comprised of commercial exhibitors and pleasure horse professionals will be available to assist spectators during the week.
Kathy Williams of Kathy Williams Tail Extensions traveled 13 hours from Mendon, Ohio to attend the NSBA World Show.
"Our main purpose is selling tails," she said.
In addition, they also are known for carrying high-end show clothing by Show Girls Apparel, Kevin Garcia, Lindsey James, Diane Olsen, and other designers.
Williams said the most popular fashion item right is the bolero vest sets because of their multi purposes.
"It can be worn in Horsemanship," she explained. "Put the bolero on and it becomes a pleasure outfit.
The NSBA will host an Awards Banquet on Aug. 16 at the Doubletree Hotel to honor 2016 High Point Award winners, Hall of Fame inductees and special award recipients.
World Show and BCF judges include: Rick Baker, Brenden Brown, Rick Christy, John Dean, Melissa Dukes, Jerry Erickson, Eric Hubbard, Brent Maxwell, Rob Meneely Eric Petersen, Nancy Renfro, Tom Robertson, Jennifer Thompson and Debra Jones Wright.
Show Your Colors judges include: Carla Wennberg, Tom McBeath, Pam Scott, Kelly Smith, Tim Abler, Mary Luther Eggleston, Sharron Wellman and Chris Jeter.
The NSBA World Championship Show is open to all breeds recognized by the National Snaffle Bit Association. NSBA recognized breeds include AQHA, APHA, ApHC, ABRA, IBHA, PHBA, POA, PtHA and Jockey Club.
All World Championship and Stakes classes follow the NSBA payback as listed in the association's rulebook.
In accordance with Breeders Championship Futurity rules, the stallion nominator receives 20 percent, the foal nominator receives 10 percent, and the foal owner receives 70 percent of foal earnings.
All Breeders Championship Futurity classes pay back up to 10 places.
For a schedule click here: http://www.nsba.com/New_Images/Forms/World%20Show/2017%20SYC-WS%20Schedule.pdf
For patterns click here: http://www.nsba.com/index.php/world-championship-show-mainmenu-253/patterns.html
For qualifying information click here: http://www.nsba.com/index.php/world-championship-show-mainmenu-253/qualifying/2016-qualifying-important-changes-announced.html
Check back for continued coverage at InStride Edition.com and on the InStride Edition Facebook page.