Source: Text by Corrine Borton • Photos by Southern Moon Photography and Superlative Equine
Posted on November 3, 2017 By admin Features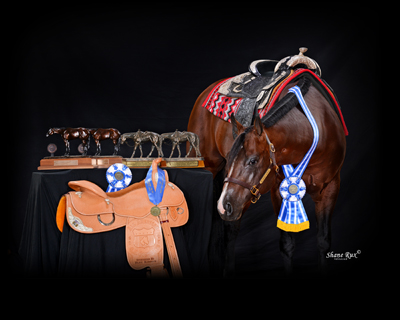 When a message is said to have "Gone Viral" online it means that it has spread rapidly through a population by being frequently shared with many individuals – because it evokes emotions that spur the viewer to share it.
Kari Craft's 2014 bay stallion, Gone Viral, by No Doubt Im Lazy and out of Suddenly Style N has certainly done that.
Although his show career did not get started until April of this year, Gone Viral has already built a show dossier that most never achieve after years and years of competition. Everyone is talking about him.
The public first got the chance to see Gone Viral perform in the Hylton Maiden 3-Year-Old & Over Western Pleasure Slot Class at Spring Breakout/Dave Higgins Memorial Show in Lexington, Virginia, where he claimed a Reserve Championship with Taft Dickerson in the saddle.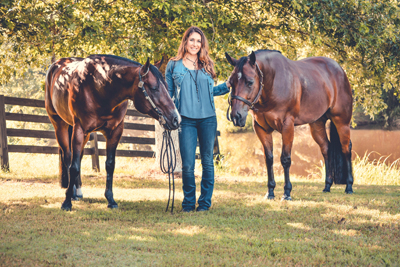 Since then, there's been no stopping Gone Viral. He was Reserve Champion in the Novice Horse Slot Class at The Little Futurity; 3-Year-Old Non-Pro Western Pleasure Champion at the Buckeye Classic; Show For Dough Futurity Champion and two-time Reserve Champion; Novice Horse Intermediate Champion at the Madness; 3-Year-Old Intermediate Champion at the Tom Powers Futurity; four-time National Snaffle Bit Association (NSBA) World Champion and two-time NSBA Breeders Championship Futurity Champion.
But the pièce de résistance came at the All-American Quarter Horse Congress last month where Gone Viral captured championships in the Green Western Pleasure and 3-Year-Old Open Western Pleasure with Jason English and Reserve Congress Championship in the Limited Division of the 3-Year-Old Non-Pro Western Pleasure with Craft.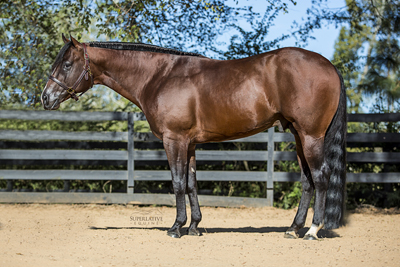 His success has been no surprise to Madison, Georgia trainer, Jason English, who first spotted the colt when he was just a few months old at Roberts Quarter Horses, where he was bred and raised. Waymond and Susie Roberts, of Chatsworth, Georgia, have raised numerous World and Congress Champions and knew exactly what they were doing when they bred Suddenly Style N, a full-sister to The Rock, to No Doubt Im Lazy.
"I loved and wanted him right away but I couldn't find anyone who wanted to wait a couple of years on him," he said. "So, I just kept an eye on him the next two years."
In August of Gone Viral's 2-year-old year, Waymond Roberts allowed English to take the youngster they nicknamed Monkey, then just green broke, home to try out for a few weeks.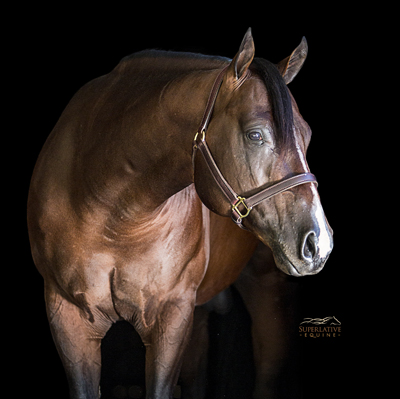 "After four days of riding, I knew I had to have him."
English secured a partner and bought the colt himself.
Gone Viral was a quick study with tons of natural ability – and it never hurts that he is just beautiful.
"He has two great strengths, his mind and his natural movement," English said. "Even though he was just green broke when I got him, I only had to show him once what I wanted and we continued to build on that one thing every day. I never have had to teach him to jog or lope, it's all natural ability. I only taught him how to hold his body position and set the pace. He's so good-minded he allowed me to do that with no problems."
English has been training horses for over 15 years now. He was born in California but his family moved to Florida when he was just 4 years old. After high school, he moved to Georgia to attend Abraham Baldwin Agricultural College in Tifton, where he earned a degree in Animal Science. Up until college he showed registered Quarter Horses but while he was in college he took a break from it to follow a dream he always had of riding bulls. He competed on the rodeo circuit from 1992 to 1998 but returned to training as an assistant trainer for several top trainers, including Michael Colvin and Vicky Wood.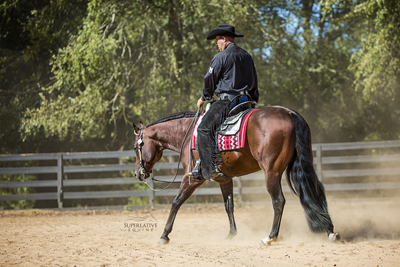 Up until three years ago he rented stalls for his training business but now he and fiancé, Jamie Murrow, have a 40-acre farm with a 20-stall barn, six turn-out pens, an outdoor arena, round pen and four big pastures for broodmares and foals. They will be married in April and will continue to operate English Show Horses, focusing on training horses for Western Pleasure, Hunter Under Saddle and all-around events and coaching youth and amateur competitors. They also give lessons and recently started a breeding program, with the goal of raising great futurity babies to train and sell.
Kari Craft has been with Jason for 15 years now. They met when Jason was working as an assistant to Craft's then trainer, Michael Colvin.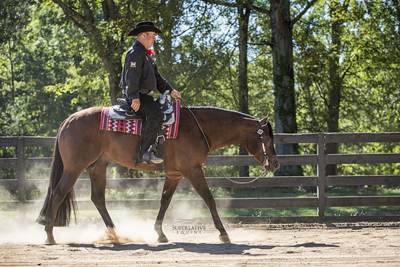 "We respect each other through good times and bad," English said. "We definitely have had our fair share of winning but it's the losing that has made our relationship successful. Neither one of us ever places blame. We just talk about what we need to do differently to win and we do it with respect for each other."
Craft has been riding all her life. She started showing in 4-H in 1997 and quickly graduated to AQHA breed shows. Teamed with Mostly Chocolate, Craft earned numerous Congress Championships, NSBA honors and Circuit Championships and in 2007 captured an AQHA World Championship in Amateur Horsemanship. Since then she has had several highly-decorated show partners, including Beyond The Best and ML Super Hotrod.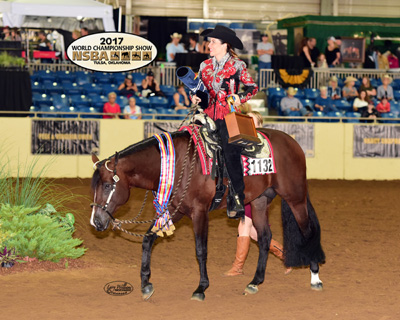 A graduate of the University of Georgia with a Bachelor of Arts degree in English, Kari rode for the school's NCEA National Championship Equestrian team. Afterwards she earned a Master of Arts degree in Secondary Education from Georgia College. In 2009 Kari married Mitch Craft and their son, Brooks, was born in 2010, just a month after she lost ML Super Hotrod following an accident while playing in a turnout pen. She took a break from serious showing during that time to focus on her family.
Last year English found Kari a new show partner in James Deen Daydream, a 2013 bay gelding by Machine Made and out of Miss Heartrodder and she's back more competitive than ever. The team earned fourth place in the Limited division of the 3-Year-Old Non-Pro Western Pleasure at the 2016 Quarter Horse Congress and fifth in the Open Division. This year they were Reserve Champions in the Non-Pro Western Pleasure Slot Class at The Little Futurity and have earned numerous Circuit Championships and futurity wins. They will be competing in Amateur Western Pleasure at the AQHA World Show this month,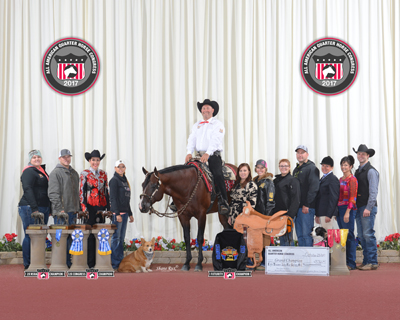 "Now that Brooks is older, I can show as intensively as I did 10 years ago," Kari said. "Mitch is a huge hunter and fisherman and works as a firefighter in our town. I love it that he loves to hunt just as much as I love to horse show, because there is an understanding there about how much horses mean to me and how much hunting means to him. He understands how much it means to me to be able be gone for a week or more at a time to be able show the way I want to."
It was during one of those trips to ride that Craft first saw Gone Viral.
"Jason took him out in the round pen and let him jog and lope around. He was gorgeous," she recalled. "I immediately said 'I want him.' Both Jason and my mom just laughed."
The next time Kari saw "Monkey" was in Virginia where he was competing in the Hylton Maiden.
"I watched, I loved … I told Jason I wanted him and Jason laughed again," she said. "I guess I tell Jason I want a lot of horses."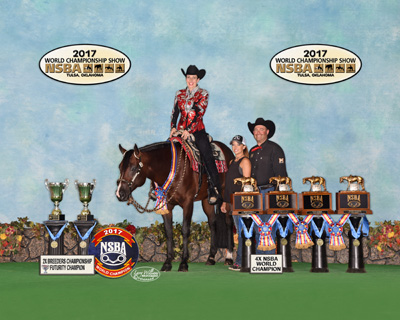 By the time the Tom Powers rolled around at the end of June Craft had taken it long enough.
"I took a selfie with Gone Viral, sent Jason a picture and said, "Monkey wants to be a 'Monkey Craft.'"
Finally, at the Big A Circuit a week or so later, it was settled –   Gone Viral would belong to Kari.
"I rode him for the first time there and I had chills," she said. "My mom watched him and said, 'that's the first horse of yours that I have ever wanted to ride. He gives me chills.' Maybe one day I'll let her ride him."
Kari said she has always had dreams of raising foals but thought it would be with mares – she never imagined she would own a stallion.
"Anyone can see his strengths physically when he moves and shows, however, his greatest attribute is his mind," Craft said. "If we had more horses like him, they would not only require less preparation physically, but mentally as well."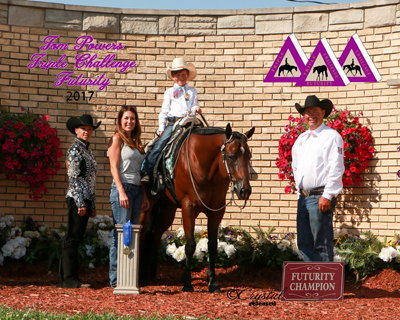 Surprisingly though, one of the biggest reasons Kari was so determined to own Gone Viral was to make sure he would remain with English.
"He and Jason had a bond like no other horse I've seen him with," she said. "Part of me wanted to buy him so Jason would never have to say goodbye to him.   He's by far the best horse Jason has ever had and having to part with him would have broken all our hearts."
Kari got the chance to show Gone Viral for the first time herself at the NSBA World Show. They were Champions of both the 3-Year-Old Non-Pro Western Pleasure and the 3-Year-Old Intermediate Non-Pro Western Pleasure. They also won the BCF 3-Year-Old Intermediate Non-Pro Western Pleasure.
"It rained quite a bit there and there was no place to longe or ride," Kari recalled. "Jason asked me if I wanted to show without having the opportunity to ride or longe. I said, 'well yeah.' We went in and won both the Intermediate and the Open (Non-Pro Western Pleasure classes), without any preparation. That's just how wonderful he is."     Last month Kari and Gone Viral added to their resume by being named Reserve Champions in the Limited Division of the 3-Year-Old Non-Pro Western Pleasure at the Congress.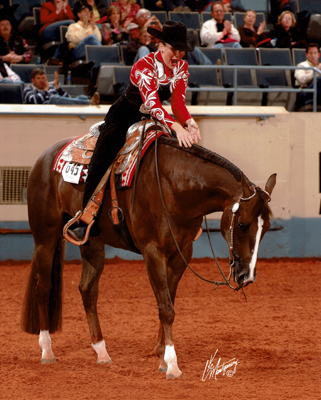 English will show Gone Viral in the L1 Western Pleasure at the AQHA World Show this month. After that he will compete at the Florida AQHA Circuits to become qualified for the 2018 AQHA World Show in Open and Amateur Western Pleasure.
"The hardest part by far is making sure that I do him justice, both showing and promoting him," Craft said. "He is such a great horse and while showing him, it's up to me not to make a mistake in that arena. I know he's not going to make a mistake, he knows his job and he does it so well, but I must make sure I'm on my tip top game too. I'm so used to horses that are not broke, that I need to help every step of the way, that just sitting back, and staying out of his way is so different for me. I just simply want to show him the best that I can and I know Jason feels the same way. We just need to stay out of his way because he is so natural, he truly doesn't need our help."
After he is qualified for the World Show Gone Viral will stand the 2018 breeding season at Gene Parker Farms in Orrum, North Carolina.
"Initially we were not going to breed him in 2018," Craft said. "We were going to wait until 2019, however, there was so much interest in him that we decided to stand him. Jason, Jamie and I are so anxious to start riding his babies, that we didn't want to wait a whole extra year."
Gone Viral will return to the show pen in June for the summer maturities and he will show at Congress and World next year.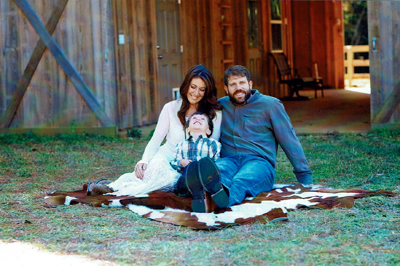 "My goal in to win a globe in Amateur Western Pleasure and then retire him from the Western Pleasure after that," Craft said. "We may bring him back to do Western Riding, but we aren't quite sure yet."
Gone Viral's 2018 stud fee has been set at $1,500. There is a $275 collection and processing fee per shipment via Fed-Ex or $375 for same day air service.
"We want to accommodate everyone that has shown an interest in Gone Viral," Craft said. Top priority will be given to proven mares and proven producers.
Gone Viral is enrolled in the Western Pleasure Super Sires, Premier Quarter Sires and the NSBA SIF, so his foals will be eligible to participate in those programs.
She may not have set out to own a stallion but Craft is already loving it.
"My absolute favorite part about owning my own stallion is his fans," she said. "People are so excited to talk to you about their mares that they want to breed to him and so excited about talking to you about your new and upcoming stallion. It's just been wonderful. I love getting messages from all his Facebook and Instagram fans and people wanting to wear Gone Viral swag."
Many highly-decorated mares have already been booked to the young stallion.
The mares we have already accepted for next year are spectacular and that makes Craft and English excited about the future.
"We cannot wait to support all the babies and owners for years to come," Craft said. "I just simply cannot wait to be able to cheer on all Monkey's babies and their owners."
For additional information on Gone Viral visit his web page at www.GoneViralStallion.com, follow his Facebook or Instagram page. For breeding information email Gene Parker at Geneparker@parkerfarms.com or call him at (910) 258-1616.