Source: Text by Corrine S. Borton • Photos by Kristin Martin, Shane Rux & Eric Hardesty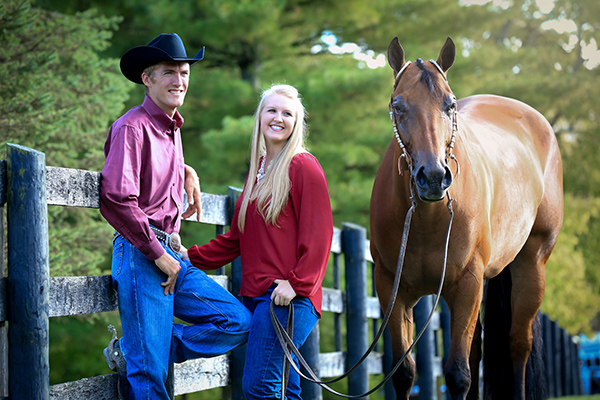 He can be intensely shy and it pains him to have to tell a customer their horse may not work out in a specific discipline because of its mind, ability or soundness. But for Ohio trainer Brent Garringer, watching a horse he started progress over time provides him with all the motivation he needs.
Garringer was born into a horse-loving family. He started trail riding with his parents at the age of 4. Once, when he was about 6 years old, and out on a ride that included a trek through a creek, the horse Garringer was piloting stopped, started kicking, and, all of a sudden, laid down and rolled in the mud, saddle and all. But he was not deterred. He kept right on riding. By the time he turned 10, Garringer was showing in 4-H and graduated to American Quarter Horse Association shows just a few years later.
When he turned 17, Garringer started working for Ty and Karen Hornick and ended up staying for six years.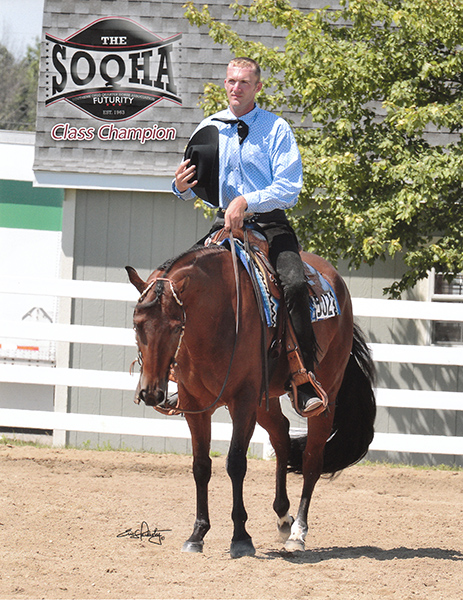 "It was supposed to start as a summer job but it progressed to much more," he recalled. "I started just a longing and taking care of the horses at home and worked my way up to going to horse shows and riding a couple a day at the shows pretty quickly."
By the end of his first summer there, Garringer got the opportunity to show his first horse at the National Snaffle Bit Association's World Championship Show.
"I was able to ride more colts and show more horses," he explained. "I was blessed to have the opportunity to ride and show a lot of great horses in my time there at the Hornicks and I could not be more grateful.
In 2009 Garringer moved to Ocala, Florida to work for Stanley and Susan Scott at Haylo Farm for a couple years. During that time, Troubles A Blazin and Nancy Wilkerson-Ditty won a Congress Championship in Amateur Pleasure and were third in that same class at the AQHA World Show the same year.
In 2013, at the age of 24, Garringer moved back home to Ohio and started renting stalls from Brad Luebben in Orient to establish his own training business. The facility is located about 20 minutes south of Columbus and includes 35 permanent stalls, a few additional portable stalls, a round pen and large pasture for the broodmares and babies. It also features a 60-by-120-foot indoor arena and a 100-by-150-foot outdoor arena.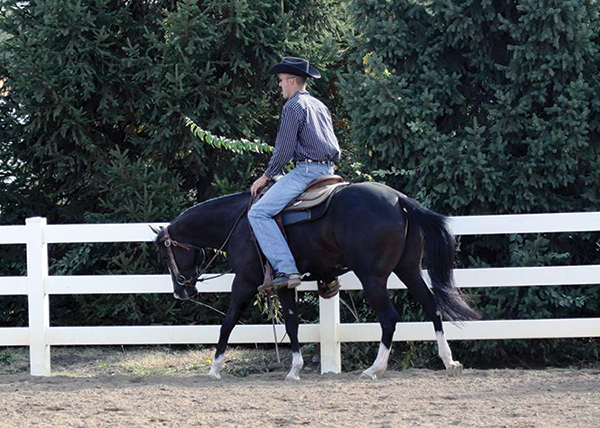 "There is nothing more gratifying than being able to accomplish something and be successful on your own," Garringer said. "You get a whole new motivation and appreciation when you are doing it all yourself."
Garringer's program specializes in the preparation of Western Pleasure contenders at every level – from starting colts to showing seasoned maturity horses. He also coaches youth and amateur competitors.
"Take my time and do the right things," he explained. "I let the horse tell me when it's ready to go on to the next step. Starting them correct from the beginning is a big part of my program."
Over the years, Garringer has trained many successful Western Pleasure contenders including: Easy N The Moonlite, SOQHA $5,000 Slot Class Champion and Top 15 in Junior Western Pleasure at the Quarter Horse Congress; Rhondas Good Machine, 11th in the Limited Division of the Coughlin 2-Year-Old Western Pleasure at the Congress; True Rumors, fourth in the Limited Division of the 3-Year-Old Western Pleasure at the Congress and third in the Intermediate Division of the $100,000 Western Pleasure Slot Class at the Reichert Celebration; Radical Renegade, fourth in the Limited Open Western Pleasure Maturity at the Congress and Reserve Champion in the 3-Year-Old Limited Open Western Pleasure Maturity at the Tom Powers Futurity; and Striking Potential, Reserve Champion in the Limited Western Pleasure Maturity at the Tom Powers Futurity.
He has also coached several youth and amateur contenders including his girlfriend, Alyssa Justus and Easy N The Moonlite, 2016 Buckeye Classic Non-Pro Maturity Champion, 2017 NSBA World Show Amateur Western Pleasure Top 10 and BCF 4-6 Year-Old Limited Non-Pro Maturity Top 10; Congress Amateur Western Pleasure, 13th place. Also, Kelsey Grose and The Escape Clause, Reserve Congress Champion in Novice Amateur Hunter Under Saddle and third place at the NSBA World Show in Novice Amateur Hunter Under Saddle.
Garringer grew up in Washington Courthouse, Ohio and attended Miami Trace High School, where he participated in FFA and played trombone in the band. When he is not riding or at a show, Garringer enjoys watching sports, spending time with his family and girlfriend, taking vacations and riding his four-wheeler.
You can contact Garringer by calling (740) 572-2865 or on Facebook.