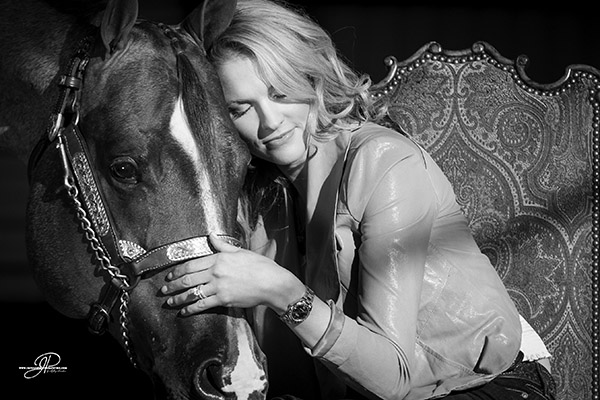 Ten years after Kristen (Glover) Galyean rode Vital Signs Are Good to the AQHA World Championship in Amateur Western Pleasure she returned to earn the golden globe once again. But this time, in 2017, she was on VS Lady In Red, sired by VS Code Red, and the granddaughter of Vital Signs Are Good. Riding the graceful red roan mare in that Norick Arena in Oklahoma City in November was a sentimental journey for Kristen, since Vital Signs Are Good passed away in January.
The Story Begins…
In 2002 Vital Signs Are Good won the 2-Year-Old Western Pleasure Futurity at the Quarter Horse Congress and went on to win the AQHA World Championship the next month. It was at the World Show that Jim and Debbie Glover purchased "Lucy" for Kristen as she graduated from Youth to Amateur competition. They were partners for seven years, dominating the Amateur Western Pleasure and Western Riding.
Looking toward the future, and seeing the talent and potential in the red roan mare, the Glovers began breeding Vital Signs Are Good to top stallions, via embryo transfer, while she was being shown. She won her first Amateur Western Pleasure World Championship with Kristen their first year together, in 2003. Lucy's grace and flow led them to Western Riding, where she truly excelled. In 2007, she and Kristen won the AQHA World Show All-Around Amateur title the same year Lucy's first son to show, Invest N Vital Signs by Vested Pine, won the $250,000 Equine Sports Medicine 2-Year-Old Maiden Western Pleasure Futurity, earning his first paycheck – an impressive $100,000. He went on to win a National Snaffle Bit Association World Championship with Kristen and a Congress Championship in the Non-Pro 2-Year-Old Western Pleasure. Vital Signs Are Good was honored by the NSBA as Horse of The Year for her accomplishments that year, and was the Leading Dam Of The Year for the accomplishments of Invest N Vital Signs.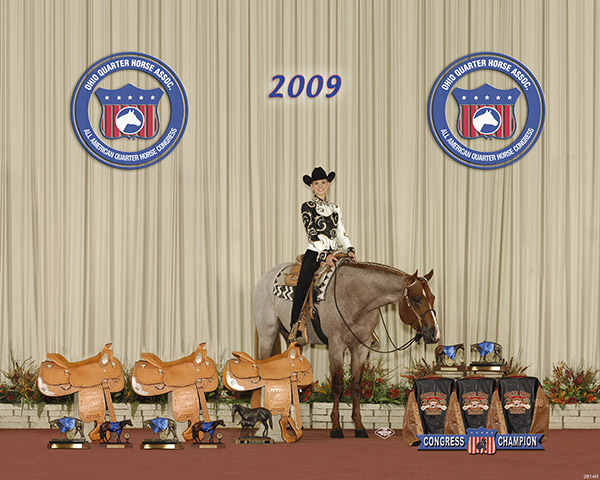 VS Code Red
In 2007, Lucy produced two sons – VS Code Red by Blazing Hot, and VS Code Blue by RL Best Of Sudden. Glovers sold VS Code Blue as a yearling and Kristen began looking toward a future with VS Code Red (Waylon).
At the 2009 All American Quarter Horse Congress, Kristen made history as the first non- pro rider to win the Open, Limited Open and the Non-Pro 2-Year-Old Western Pleasure Futurity with VS Code Red. Her mother, Debbie Glover, describes that show as one of her "proudest mom moments" as she watched her daughter show the young stallion.
"She finished him herself," she explained.
Kristen says Waylon is more like a gelding than a stallion, with an incredibly good mind.
The new year ushered in a new era. Kristen sold Vital Signs Are Good right after that magical Congress, and Kristen left the world of Western Pleasure to join her husband, Wes Galyean, competing in NCHA events. Waylon stood his first year at stud in 2010 to a limited book of mares as a freshman sire. Ten of these foals are point earners and have earned 14 Register of Merit awards, four Superior Awards, an AQHA Championship and three AQHA Level 1 Championship titles.
Following the breeding season, Waylon came home to the Galyean ranch in Claremore, Oklahoma. Kristen began riding him just for fun and to keep him in shape. She was unable to resist the urge and found him to be a natural at changing leads. That led her to approach her parents, partners in his ownership, with the idea of returning to the show area in western riding. When his mother, Vital Signs Are Good, broke her own World Show record, scoring a 239 to win the Senior Western Riding at the 2010 AQHA World Show, the plan began to take shape quickly.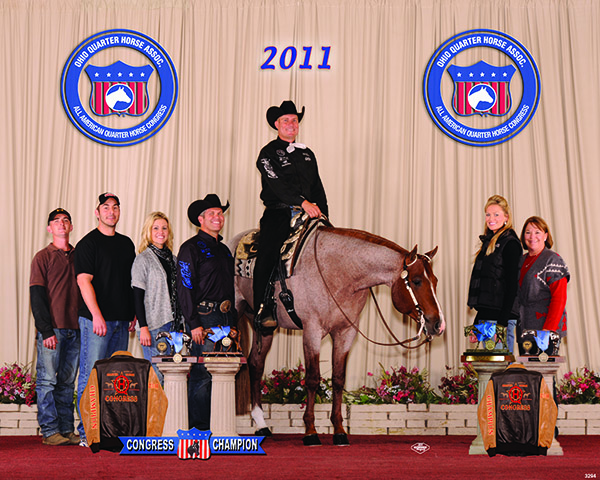 The need to accommodate a full breeding schedule with the demands of training and showing led them to Highpoint Performance Horses.
"The ability to stand Waylon while he was showing was very important," explained Debbie Glover. Kristen agreed.
"It was a major decision. I would have loved to have him at home but we had the breeding business to consider. We knew that Charlie and Jason at Highpoint would give Waylon the opportunity he deserved," she said.
It was easy for him.
"His strength and lift give him so much natural ability, it was exactly as we had hoped," Kristen explained. "His quiet nature and willingness made him such a great show horse, something he proved even while standing at stud. Gracelyn (her daughter) loves him."
It's not always easy for a stallion to combine a breeding job with a show career, but Waylon's easy going nature made it possible. Charlie Cole and Waylon made a good team in the Junior Western Riding. Cole loved the way the young horse threw his front leg out, just like his mother. He swept the Junior Western Riding under all four judges and was the Green Western Riding Congress Champion as well at the 2011 Congress.
With a schedule full, as a wife and mom, working at the family auto dealership and riding cutting horses, Kristen found it difficult to add more showing to her plate. Even though they could qualify for the AQHA World Show with limited showing, the overlap of the NCHA Futurity kept her from showing at the AQHA World Show. With the NSBA World Show in hometown Tulsa, Kristen was able to show Waylon there, and win the Non-Pro Western Riding.
In 2015, Waylon quit showing and became a full-time breeding stallion. His earnings in AQHA and NSBA topped $52,000 and he had five Congress Championships as well as NSBA World Championships credits on his record.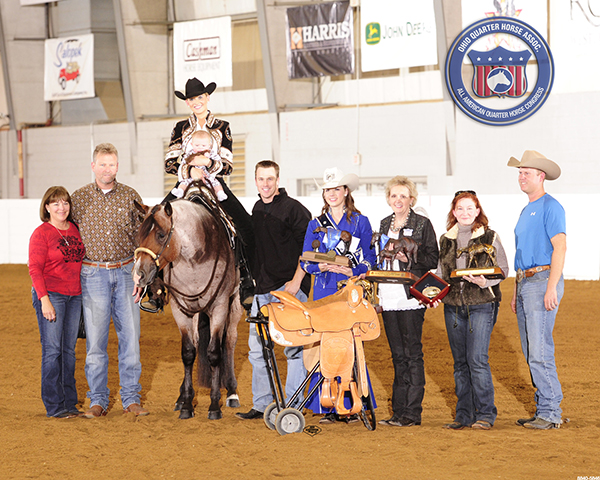 VS Flatline
It was a May afternoon when Wes Galyean checked on a mare and found her brand new foal had just arrived. He had to help break the sac to welcome the bay roan stud colt into this world.
"I was at work, if Wes had not been there to help him he would not be here," Kristen recalled. "I knew then that he was special and there was a reason he was here."
Out of Vital Signs Are Good and by World Champion Lazy Loper, "Kobe" was another keeper for the Glover Galyean Partnership. He did not disappoint. True to his bloodlines, VS Flatline wowed the crowd at the 2012 All American Quarter Horse Congress, where he won the 2-Year-Old Open Western Pleasure, trained and shown by Jay Starnes. He also won the 2-Year-Old Non-Pro Western Pleasure, with Kristen Galyean.
Following the Congress, Starnes presented VS Flatline at the AQHA World Show where they were crowned World Champions in the 2-Year-Old Western Pleasure. The demand for the young stallion to stand at stud increased dramatically with that win, sparking the discussion for the family. The decision was made to stand him to a limited book of mares in 2013 to allow him to prepare for the 3-year-old events that Fall.
"It was our full intention not to stand him in 2013 and concentrate on showing him as a 3-year -old," said Kristen Galyean. "He was amazing, and I had so much fun showing him that I realized how much I missed showing Western Pleasure. I was really looking forward to showing him the next year."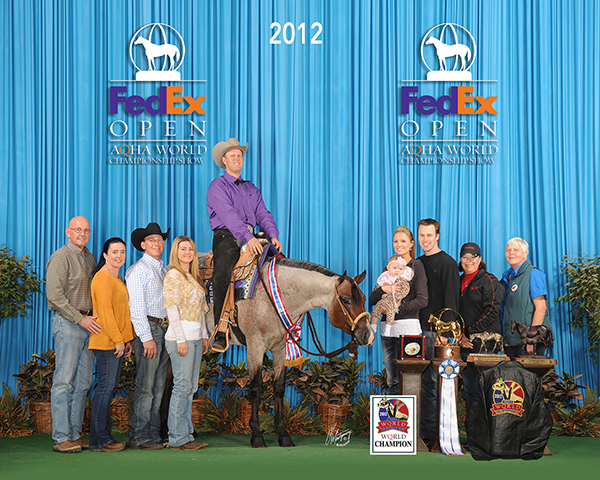 Kobe repeated those Congress wins as a 3-year-old in both the Open with Starnes and Non-Pro with Kristen, plus took the Amateur Western Pleasure title.
"I see his mother in him," Kristen had said. "He's got her great attitude and it just seems so easy for him, which makes it so much fun for me."
Like his brother, Kobe took to
the Western Riding as a son of Vital Signs Are Good. He claimed the Reserve Championship in Junior Western Riding at the 2015 Congress with a 238.5 score, shown by Charlie Cole.
After a limited, but highly successful, show career in western pleasure and Western Riding, Kobe joined Waylon standing at stud full time. With five Congress Championships, an AQHA World Championship and several NSBA World Championship titles, his earnings exceeded $105,000.
The Next Generation
VS Lady In Red is a 2013 mare by VS Code Red out of Cool Krymsun Lady. She made her show debut with Gil Galyean to win the 2015 Congress Masters 2-Year-Old Western Pleasure, followed by a Reserve World Championship at the AQHA World Show a few weeks later.
VS Lady In Red would be Waylon's first Congress Masters Champion. In 2017, another red roan daughter, VS The First Lady, captured the title with Aaron Moses in the saddle for Galyean.
It was VS Lady In Red that brought Kristen back to the World Show in western pleasure. Her husband's cutting horse business culminates during the NCHA Futurity, which overlaps the AQHA World Show in November. That has kept Galyean from showing in Oklahoma City the past few years. But this special mare gave her the opportunity to live a dream, to return for gold on a Lucy granddaughter. Her husband, Wes, supported her all the way.
"She's so talented," said Galyean of her 4-year-old mare. "She's so happy and she just likes to do her job. I can definitely feel her grandma in there. And her dad, VS Code Red, he was like that too, just super special and wanted to please." Kristen showed her at the NSBA World Championship Show in August where they won NSBA World and Breeders Championship titles.
As of November 2017, VS Code Red offspring have earned 5,155 AQHA points including 16 AQHA Superior Awards, and AQHA Champion, 45 All Around wins, AQHA World Champions and two Reserve World Champions. Their earnings have topped $174,000. He has also sired multiple Congress Champions and NSBA and APHA World Champions.
VS Flatline's first foal crop was in 2014, making the oldest just coming 4-year-olds. He's already an NSBA World Champion Sire, Congress Champion Sire and an AQHA and APHA World Champion Sire.
Cool Cruzen Lady, by VS Flatline, won the Junior Western Riding at the 2017 NSBA World Show and the Congress, shown by Blake Weis for Jane Humes. She set an AQHA World Show record with a 232 score to win the Junior Western Riding. It is important to note here that behind her record-breaking score, the second, third and fourth place horses were sired by his half-brother, VS Code Red.
With a limited number of foals in the show ring, they've already made their mark with some big numbers for him as a sire. In AQHA, they've earned 246 points, seven ROM awards and more than $20,000 in AQHA and NSBA. He has sired multiple NSBA World Champions, Congress Champions and APHA World Champions in Western Pleasure, Western Riding and Trail.
Kobe sired the 2017 Congress High Seller, a bay roan yearling stallion, SST Hez Flat Special, who sold for $35,000.
Waylon and Kobe possess that kind, good mind that Kristen sees as a gift from their mother, and she sees it passed on to their foals. Both stallions are gentle, even for her two young daughters – who love their boys. Those boys enjoy evening cookies while at home at the Claremore Ranch.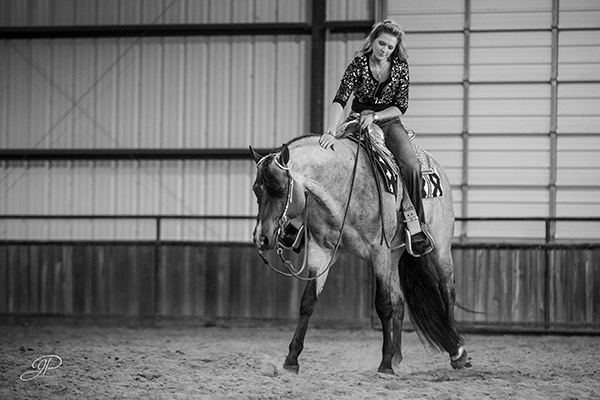 Both VS Code Red and VS Flatline established themselves as champions in the show arena. Their offspring continues the VS legacy and puts them at the top of the list for performance sires. "We are so proud of their foals and their accomplishments," Kristen said.
VS Code Red and VS Flatline will be standing at Royal Vista Ranches in Wayne, Oklahoma for the 2018 breeding season. "We appreciate everything that Charlie, Jason and Christi at Highpoint did for us and the boys," said Kristen. "The move to Royal Vista keeps them closer to home, which I like. They offer full service and year-round mare care that we felt breeders need."
Beyond their accomplishments in the show ring and in their breeding program, Kristen has an emotional attachment to both VS Code Red and VS Flatline because of their mother.
Kristen's original goal when she found Lucy was to purchase and show a stallion that she could build into a business. Instead she found that red roan mare, and built a dynasty. Turns out that Lucy gave her two stallions to continue her legacy.
And the beat goes on.