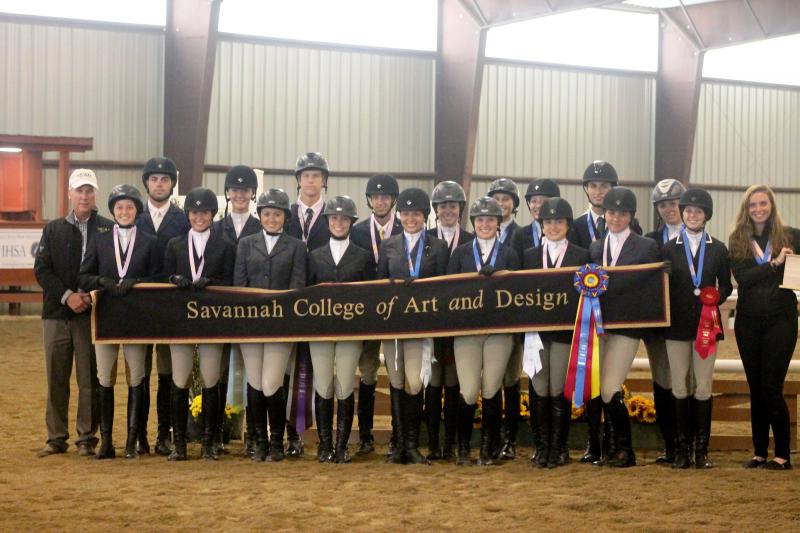 Savannah College of Art and Design (SCAD) has won its fifth consecutive overall Tournament of Champions Collegiate Series Championship. The university hosted the final event of the four-part series on January 27.
The Tournament of Champions is an annual series that gathers the country's most elite equestrian teams. The first three events of the series were held at Randolph College on September 16, 2017; University of Findlay on December 2, 2017 and Stonegate Farms in Athens, Ohio, on January 20, 2018. The competitors' top two scores from the four events were tallied to determine a series champion.
SCAD was the first art and design university to offer an intercollegiate sports program. Since SCAD's equestrian team began competing in 2002, it has made impressive strides in competition. In addition to its five consecutive Tournament of Champions titles, in 2017, SCAD won its third IHSA National Championship title in as many years. Also in 2017, the Bees won both the Novice and National Team Divisions at the American National Riding Commission (ANRC) National Collegiate Equitation Championship, marking the third consecutive year that SCAD won the Novice Team Division and the third time in four years that the Bees won the National Team Division.
"I am beyond proud of our team for demonstrating that commitment to discipline and practice creates the foundation for success," said Ashley Henry, SCAD equestrian head coach. "We continue every day to learn and improve, both as a team and individually, allowing our passion for the sport to fuel us."
The final Tournament of Champions event was held at SCAD's Ronald C. Waranch Equestrian Center, a 100-acre facility that includes 13 turnout pastures, 3 large outdoor arenas, an indoor arena ideal for competing and practicing in all weather conditions, and a derby course. The grounds feature two state-of-the-art barns for the university's and student riders' horses, and has been recognized by the American Institute of Architects (AIA) Savannah with the 2015 Excellence Award.Widely considered one of the most stunning equestrian centers in the collegiate sport,it has been deemed "a masterpiece in its own right" by Garden & Gun magazine.
SCAD: The University for Creative Careers
The Savannah College of Art and Design is a private, nonprofit, accredited institution conferring bachelor's and master's degrees at distinctive locations and online to prepare talented students for professional careers. SCAD offers degrees in more than 40 majors, as well as minors in more than 75 disciplines across its locations in Savannah and Atlanta, Georgia; in Hong Kong; in Lacoste, France; and online through SCAD eLearning. With more than 35,000 alumni worldwide, SCAD demonstrates an exceptional education and unparalleled career preparation. The diverse student body, consisting of nearly 14,000, comes from across the U.S. and more than 100 countries worldwide.
In 2017, the prestigious Red Dot Design Rankings placed SCAD as the top university in the United States and in the top two universities in the Americas and Europe. Career preparation is woven into every fiber of the university, resulting in a superior alumni placement rate. In a study of Spring 2016 SCAD graduates, 98 percent were employed, pursuing further education, or both within 10 months of graduation. For more information, visit the official SCAD blog.
About SCAD equestrian studies
The undergraduate program of study covers equine law and principles, rules and regulations of various equestrian governing bodies, and effective communication with a wide range of equestrian professionals. The comprehensive curriculum is supplemented by lectures from visiting professionals, including trainers, Olympic-caliber riders, judges, veterinarians and horse-show managers.
Through the equestrian studies program, students gain an understanding of equine psychology, body language and social behavior that they apply to the care, training and riding of horses. Knowledge of equine anatomy, conformation, conditioning, health and nutrition provides the basis from which students develop competency in the safe handling, proper care, evaluation and selection of the sport horse. For complete curriculum requirements and course descriptions, visit scad.edu/equestrian-studies.