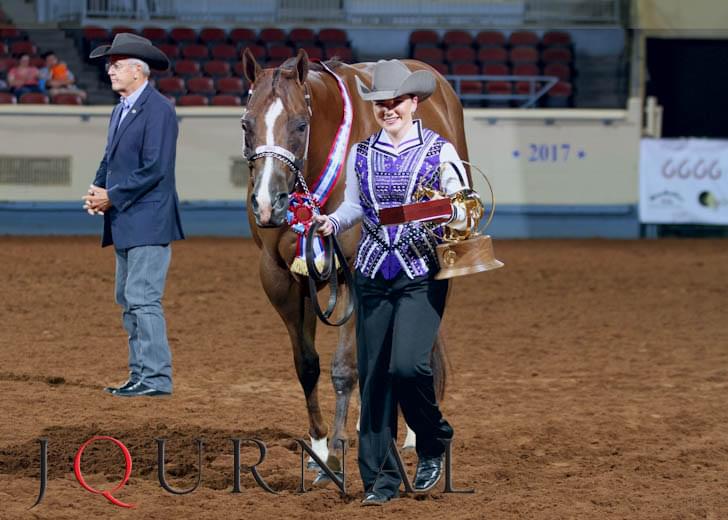 The tentative schedule for the 2018 Built Ford Tough AQHYA World Championship Show is now available online at www.aqha.com/youthworld.
The Ford Youth World is August 2-11 at State Fair Park in Oklahoma City and features the world's top youth riders and their American Quarter Horses.
New in 2018, Level 3 13-&-Under core world championship classes will be added to the Ford Youth World. Exhibitors can qualify to compete in Level 3 13-&-Under western pleasure, hunter under saddle, horsemanship, hunt seat equitation, showmanship, ranch riding and trail at the Ford Youth World. AQHA answered the most-asked questions about the new 13-&-Under classes in this 13-&-Under Classes Q&A.
View the Ford Youth World qualifying points. The qualifying period began May 1, 2017, and ends April 30, 2018.
The Ford Youth World has a variety of events and activities for competitors, friends, family and spectators to take part in throughout the show. The Boehringer Ingelheim AQHYA Judging Contest, college fair, speech contests, fashion show and Nutrena Ride the Pattern clinics are just a few of the events the Ford Youth World has to offer.
For more information on the Ford Youth World, visit www.aqha.com/youthworld.
About the Ford Youth World
The Ford Youth World is the world's largest, single-breed world championship horse show open exclusively to youth exhibitors age 18 and under. This is the pinnacle event for youth competitors around the world who must qualify for the event by earning a predetermined number of points to secure a spot in each of the classes, representing English, western and halter disciplines, or earn an invitation through their state or provincial affiliate.
About the Sponsor
Ford Motor Co. is the title sponsor of the Ford Youth World. AQHA members are eligible for a $500 rebate through Ford on select Ford vehicles, some restrictions apply. To qualify, you must be an AQHA member for at least 60 days. Get your rebate and, remember, when purchasing your next vehicle, buy Built Ford Tough.
AQHA News and information is a service of the American Quarter Horse Association. For more news and information, follow @AQHAnews on Twitter and visit www.aqha.com/news.