Source: Text by Katie Navarra • Photos by Kirstie Marie and Eric Hardesty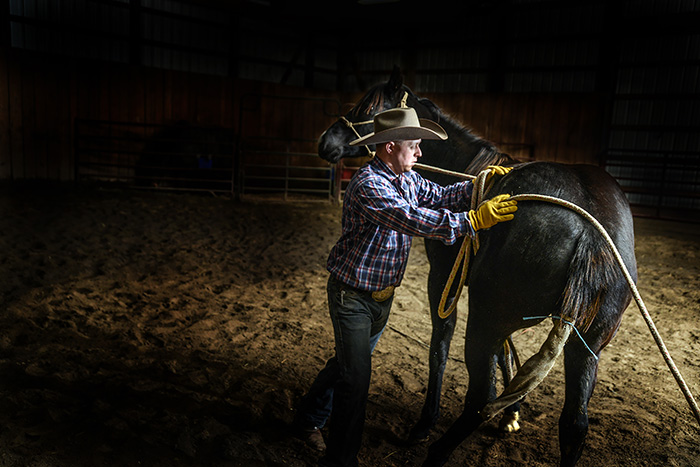 One might say that it takes a village to select the right breeding cross, get a prospect safely on the ground, trained and campaigned to the winner's circle. Colt breakers are a part of that critical village for many of today's top trainers. And if you don't believe they are an important piece to the puzzle, consider this:
At the American Quarter Horse Association's World Championship Show held in November, both the 2-Year-Old Western Pleasure Champion and Reserve Champion got their start in the hands of a colt breaker.
Rob Foster, of Weatherford, Texas, got Lope With Grace in at about this time last year. The 2015 bay mare by Lazy Loper and out of Gifted Invitation, is owned by BS Horses LLC, Willoughby, Ohio, and was sent to Foster by Texas Western Pleasure trainer Aaron Moses. In October, she won the Coughlin 2-Year-Old Western Pleasure at the 2017 All-American Quarter Horse Congress and she followed that up with an AQHA World Championship in November.
The 2017 AQHA 2-Year-Old Western Pleasure Reserve World Champion, No Doubting Me, a sorrel gelding by No Doubt Im Lazy and out of Ima Potential, is owned by Sue Sanken, Grayslake, Illinois, and was ridden to the honor by Brian Baker. Scott Dutton, a colt breaker from Zanesfield, Ohio, put the foundation on him.
Today's Western Pleasure trainers turn to colt breakers for a variety of reasons. Some are on the road showing and a good colt breaker can move a new prospect along slowly and carefully, shaving valuable time off what it will ultimately take the trainer to end up in the show arena.
There is also a lot of physical risk to established trainers introducing a new colt to the saddle for the first time. A serious injury sustained while getting bucked off could sideline a trainer from the show pen and threaten his or her financial stability.
With so much 'riding" on the ability to provide a potential contender with the safe and proper start, it's crucial that the right colt breaker is selected.
Adam Wainscott of Nashville, Tennessee is one of several trainers who uses Texas based colt starter, Rob Foster. Wainscott values Foster's intimate knowledge of the process it takes to develop a winning pleasure horse. He also appreciates that Foster focuses on the fundamentals so that Wainscott can finish them the way he chooses.
"Form to function is everything," Wainscott said. "He understands that and treats every horse as an individual."
Although Moses prefers to start his own colts, "Ellie" came to Moses after the horse's owner sent her to Foster to start.
"Rob does a great job starting the horses so that the they are confident and easy to get along with," Moses said. "And he has a solid understanding of what it takes to succeed in the Western Pleasure show pen."
Cleve Wells also uses Foster, a one-time employee. After turning 50, Wells decided it was time to transfer the risk of getting on an untrained youngster over to someone else. He sends about 15 horses a year to Foster.
"There are a lot of people who can train and show, but not as many colt starters," Wells said. "Rob is a well-rounded horseman and that's what I like."
Brian Baker and his wife, Dawn, rely on Scott Dutton to start their young horses. Time is one of the reasons they began using his services about three years ago. With the All-American Quarter Horse Congress and the AQHA World Show falling in peak colt starting season, these trainers can't be on the road with clients and at home providing consistent lessons to next season's crop.
"Scott can get them started while I'm at Congress and the World Show and it makes a big difference for me," he said.
The facility colt starters work out of often offer exposure to extremely diverse surroundings. Teaching a young horse to handle new situations with confidence and trust in their rider is a valuable life lesson. This ranks among the top of Courtney Suzanne Brockmueller's list for using Gabriel Salgado Performance Horses in her training program.
She currently has a young horse at his Texas ranch and after only 10 rides the colt is out in the field pushing a herd of cattle around.
"It's a priceless experience for them," she said.
Starting young colts is an art and sometimes a risky business. Relying on trusted colt starters provides these trainers the confidence of knowing their next world champion is in good hands. And it's a formula for success.
Foster started Amblin Potential and Coleman for Wells. Amblin Potential won the Level 1 Circuit Champion Green Western Pleasure at the Little Futurity among other top finishes. In 2016, Coleman won the Green Western Pleasure at the Congress.
Dutton started both No Doubting Me and BMQ The Jig Is Up for the Bakers. In addition to winning a Reserve Championship in the 2-Year-Old Western Pleasure at the AQHA World Show, No Doubting Me also placed sixth in the Masters 2-Year-Old Western Pleasure at the 2017 Quarter Horse Congress. BMQ The Jig Is Up won the Masters Hunter Under Saddle at the 2010 Congress.
Dutton also worked with BMQ Without A Doubt, Doodle Jump and KM Call Me Honey, for the Bakers and their client Joanne Taylor.
These trainers agree that colt starters play an important role in their "village."
Their reasons for using another trainer vary, but they all agree choosing a horseman that treats each horse as an individual is critical.
Start 'em right …
The first 30 to 90 days of a young horse's training may be the most critical time in its career.
"If a horse is not started correctly problems can be created that show up in a horse for its entire lifetime," said Wainscott.
As the industry has become increasingly specialized a growing number of trainers are focusing on finishing details rather than the broad-based fundamentals. Colt breakers specialize in having precise feel, rhythm and timing with their hands and body.
"Colt breakers are way more in tune with that than me as someone who finishes horses," Wainscott said. "I'm not saying that they can't finish horses too, but they are so good at starting horses because it's a day-to-day thing for them."
"You either have a strong niche for colt breaking or a niche for progressing and training specialized skills," Brockmueller said.
Salgado and Dutton are highly accomplished trainers in roping and rodeo events, but aren't versed in what a judge evaluates in the show pen. However, a solid foundation is critical to any discipline. And that's why western pleasure and hunter under saddle folks seek them out.
"The focus is on getting horses to move off the leg and not buck me off," Dutton said. "We work on them being calm, quiet and being able to go around in a circle."
Brockmueller appreciates that Salgado introduces her young horses to traffic in a positive way. In the show pen, crowding can rattle some horses. Salgado integrates clients' young horses into his rope horse training program.
At a rodeo, there might be 15-20 horses tied side-by-side. They might be from the same barn or it might be the first time they've seen one another. They're expected to stand there, with another horse close by.
"At home I tie stallions next to tied mares and mares next to geldings. After the first week, they understand that they have to stand there quietly," Salgado said.
He adds client horses in with his horses. This helps them get accustomed to other horses nearby so they aren't flustered in a crowded show pen.
Other colt breakers have an intimate knowledge of the Western Pleasure world. Foster is a multiple Western Pleasure World Champion in AQHA, APHA and NSBA events. He knows the specific skills these horses need to succeed in the show pen. He's won nearly 100 NSBA and Congress trophies aboard horses such as High Lonesome, an APHA World Champion and two-time NSBA Horse of the Year. He also trained I'm A Cool Robin, Ms Cash McCool and Zippos Masterpiece among others.
However, when he accepts horses in for their first few months of training, he works closely with the clients to deliver the training they are looking for.
"I'm not looking for him to teach a horse to lope slow or put his head down. I want the colt to be broke to the rider's feet and hands," Wells said. "I want a willing participant that wants to work and understands balance."
Wells knows Foster is talented, but says the real magic of what he does happens on the inside of a horse. You won't see a horse loping around on a draped rein at his place, but he'll train him not to jump out from under a rider or freak out when bumped with a leg or spur.
"I let the colts learn how to carry themselves. How to carry a rider and find their cadence," Foster said.
Instilling the basics is only part of the equation. Pleasure trainers also choose colt breakers because of their training facilities.
Exposure …
Colt breakers often operate out of a working ranch. At Foster's Bar F Ranch horses are exposed to buffalo, cattle and working rope horses.
"The big thing is that they see it all here," Foster said. "There might be rope horses running by them and cattle in the pen with them."
He swings a rope around their belly, past their neck. Riding in a ranch setting naturally introduces horses to a range of unexpected noises and actions in a positive controlled environment. This instills confidence in the rider in any setting.
Brockmueller finds that horses started on sprawling ranches adapt to new environments faster than horses without the experience. West coast shows are frequently held outdoors and when those horses head east, they can struggle with indoor coliseum settings. Conversly, east coast horses are accustomed to indoor venues, but can be rattled by outdoor pens.
"Gabriel rides the horses in pastures, outdoor arenas, indoor arenas, small covered areas and wide-open areas," she said. "He introduces them to the different environments at their own pace so the horses learn not to become overly concerned."
Salgado makes sure the young horses see cows, streams and other natural surroundings and he turns them out.
"I want them to be a horse because that's what they are," he said.
Foster also turns out his horses as part of the routine.
"They get to play, rear, squeal and kick," he said. "When they roll it's like a chiropractor pulling on them and stretching their body. It's crucial they get to be a horse."
Dutton, a former rodeo bull rider raises bucking bulls at his Zanesfield, Ohio ranch and incorporates the natural surroundings into his regular training routine.
"He (Dutton) will go out and herd bulls with the horses we send him," Baker said. "It teaches them to trust you and to figure out that you're not going to put them in a bad spot."
Colt breakers also have the luxury of one thing pleasure trainers don't – time. Pleasure trainers have a lot of pressure from owners to perform and win. That includes weeks at a time on the road rather than at home slowly bringing along a new crop of show horses.
"People here make money per ride so they ride as many as they can," Salgado said. "People end up not knowing each horse as well."
In Brazil, his native country, trainers accept fewer horses into training programs allowing them more time to work with each horse as an individual. The Brazilian way is to treat each horse like a treasured friend of one's own child.
"At the end of the day I want to make money, but the horses need all my respect and love – and they need to respect me too," he said.
"The Brazilian colt breakers work well for our program," Brockmueller said. "Their quiet demeanor and approach to treating horses as individuals is priceless."
Foster too stresses the importance of time. The clients he works with often allow 60, 90 or 120 days to accomplish what he needs to.
"I see a lot of horses get lost because trainers don't have the luxury of giving them time," he said.
Teaching a young horse resilience can often only be accomplished through time and exposure. That is a benefit colt starters bring to the table. These are often intangible traits that are invaluable but not always easily visible. There are also tangible reasons trainers choose colt starters.
Business reasons …
Working with colt starters fit these trainers' programs for a wide variety of reasons. Aside from the solid foundation and exposure to differing elements, there are business reasons that many of the industry's top trainers use colt breakers to start prospects. Teaching young horses to ride can be risky. A majority willingly accepts their new job, but some pitch and buck until they decide to work.
"If I'm laid up because I get hurt, it hurts my business," Wainscott said. "I'd be useless to the clients who are paying me for a product – training and wins – in the show pen."
Wells misses the excitement of having the next greatest athlete waiting in the barn.
"When I was younger and someone brought me a young horse, that's what drug me out of bed in the morning," he said. "It could be the next One Red Hot Zip or Smart Lena."
He too operates a one-person training facility and can't afford to get hurt. Wells realized that several times a day he was in a compromised positon and maybe it was time to let someone else ride the colts.
"That's when I decided I needed to do something," Wells said.
Consistency is another reason trainers choose colt breakers. Young horses need steady training. Today's week-long circuits and month-long fall shows mean trainers simply can't be at home starting young horses and on the road with clients.
"Young horses need to have a little bit of training every day and the schedules make it difficult on horse trainers today," Wells said. "Repetitive work in the beginning is very important."
Pierre Briere chooses to start his own young horses, but does use Dutton for help.
"If my schedule doesn't allow me to be home in December and January for peak colt breaking season, I'll ask Scott to start them for me," he said. "He does a phenomenal job."
For Foster, sticking to the starting rather than finishing side of the business has been advantageous. He's traveled to all the big shows and won the industry's most prestigious awards in cutting, pleasure and roping. But being on the road was grueling. Now he sticks closer to home and largely travels when his son John Ryon is hauling for points.
"Starting colts makes it so I don't have to be on the road unless my son is traveling for roping," he said.
Working with pleasure horse clients keeps him involved with the industry without the grueling hours behind the windshield.
Whatever the reason that inspired a trainer to establish a relationship with a colt starter, the outcome has been undeniable. It has been a winning combination. The client's ultimate measure of success is winning in the show pen. These colt starters create the foundation that pleasure trainers build upon to achieve such victory.
"Rob is my savior. He works hard for me and I couldn't be in business today without him," Wells said.
Meet The Colt Breakers…..
Scott Dutton
The Richwood, Ohio native was introduced to horses in an unconventional way. He got in trouble at school and was assigned cafeteria duty.
Deb Moody, a cafeteria cook took an interest in him. She and husband, John, taught Dutton about the responsibility of caring for animals and allowed him to ride their horses. In 2008, Todd Powers asked Dutton to ride a few colts for him and there he learned the nuances of horse training.
"He was one of the best horsemen I've been around in my life," Dutton said.
A year later, Brian Mahoney invited Dutton to work for him training reining mules.
"That's where I really credit Scott with learning the skills and patience that make him so good at starting colts," Brian Baker said.
When Mahoney moved to Montana, Dutton established his own facility, Dutton Ranch. He raises Quarter Horses and rodeo bulls and specializes in starting young horses and "fixing" problem horses. He, his wife, Stephanie, and their children, Aubrey and Eli, reside in Zanesfield, Ohio.
"The first 30 days is about getting them to trust you and understand what is acceptable and what is not," he said.
He has started a number of horses for Brian and Dawn Baker,as well as other pleasure horse trainers acorss the United States.
"Scott is a good horseman and teaches the horses to trust their rider," Baker said.
Before transitioning to cutting and roping horses, Foster was at the top of the pleasure horse business . For more than 20 years he specialized in the discipline. The Texas native grew up in the 4-H youth program and went to work for Cleve Wells in the late 1980's and then worked for Carl Baldwin.
In 1991, he struck out on his own. His horse, High Lonesome, won the APHA World Championship. The sorrel tobiano was also the NSBA Horse of the Year as a 2and 3-year-old. He also trained I'm A Cool Robin, Ms Cash McCool and Zippos Masterpiece, among others.
Through Wells, Foster met his wife, Pam. As a youth she earned Honor Roll Championships with Carbon C Miss in Western Pleasure and with Guns Flash Bull in Hunter Under Saddle. As an amateur and non-pro she transitioned to futurity and cutting horses and has more than $118,000 in lifetime earnings with the National Cutting Horse Association (NCHA). Rob has more than $130,000 lifetime earnings with NCHA. And he's won World Championships in team roping.
For little more than a decade the Fosters lived and operated their training business in Pennsylvania. In 2013, they relocated to Texas. That's when Wells, his former boss, called him with a proposition –a colt starting venture.
"He's very talented and a good hand, meaning he has good hands on a horse, but he doesn't try to do my job. He creates a willing participant that wants to work," Wells said.
Gabriel Salgado
Gabriel Salgado is a native of Brazil and currently operates Gabriel Salgado Performance Horses out of a facility in Collinsville, Texas. He comes from a family of horsemen. He specializes in roping horses, his brothers in reining and cutting.
His approach to training is to expose young horses to a wide variety of settings. When Courtney Suzanne Brockmueller sends her colts to his ranch, she knows that within the first 10 days, he'll be riding out in the pastures with cattle, in an indoor arena or outdoor pen.
"The horses might see goats or kids on a bicycle and that prepares them for the unexpected at a show," she said. "They leave the Country Club setting at my barn and go to the country ranch to be exposed to different sights."
Generally, he spends 60 days with an untrained prospect before the owner picks it up. In that time, he teaches it to walk, trot, lope and stop and a basic understanding of leads. He also shows the horse that a rider's feet and hands are not to be feared.
"He teaches them to be a confident animal that has faith in their rider," she said.
He doesn't rope a steer off a pleasure prospect, but he does expect the young horses to develop respect for their handler, be patient and willing to work.
"At the end of the day, all we want to make money, but a love for the horses and a respect for them is most important," he said. "If there's someone who works for me that doesn't share that then they have to go somewhere else for work."